The History Center of Traverse City is a collaborator of the Grand Traverse Journal. Located in the former Carnegie Library on Sixth Street in Traverse City, the HCTC has a wealth of resources available for research on the history of people and communities around the Grand Traverse Region. Visit their website and digital archives: http://traversehistory.org/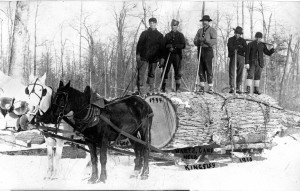 Recently something happened at the HCTC Archives that should remind us all as to why what local historians do is important.  I was privileged to witness a wonderful transformation.  A young woman came into the History Center Archives with her grandfather.  They wanted to see anything we had on their home town, which is situated a few miles outside of Traverse City.  I was able to show them 20 – 30 historic photographs, a file of clippings and articles, and a small book on the town's history,  written by a high school class in the 1950s.
When he first came in, the grandfather had seemed disinterested, disengaged, and frankly, not very focussed.  But not for long! As he and his granddaughter spent time in the Research Room, a wonderful transformation occurred.  As he pointed out things in the photos he began to smile.  As he read parts of the town's history out loud, and added his own memories to the story, they both began to laugh. By the end of their visit the grandfather was excited, happy and they were both obviously having a very good time.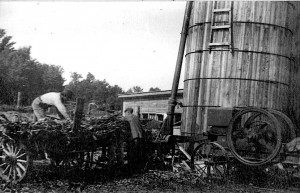 And the story doesn't end there.  A couple of weeks later they came back, this time with three more family members. The grandfather asked me to pull the same materials as the last time, and the family spent nearly two hours sharing and reminiscing.  Not only that, but they brought in over 20 photos, scans of which are now part of the HCTC archives.
At its best, this is what local history does.  It ties our families to their past., and together.  It creates community bonds and shows us how we must work together to move successfully into the future.
Peg Siciliano is the archivist at the History Center of Traverse City; she has worked as an archivist through various incarnations of the HCTC since the 1980s. To see more of Peg's work, visit her at the HCTC archives, or view the digital archives online: http://traversehistory.org/