by Annie Spence, first-time contributor to GTJ
"All change is a miracle to contemplate, but it is a miracle which is taking place every instant."
–Henry David Thoreau, Walden, or Life in the Woods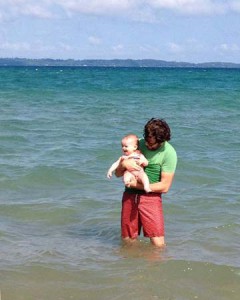 My husband and I chose the name Walden for our expected son, a tribute to both nature and literature from Henry David Thoreau's masterwork, Walden, or Life in the Woods. What better aspects of character could we hope to instill in our child than those of simplicity, self-reliance and reverence for the natural world? And for our boy with such a purposeful name we of course planned the most simple and natural of births and, of course, ended up with the exact opposite.
Our namesake of simplicity, self-reliance, and the natural world came to us by way of an emergency surgery, a team of doctors, and all the miracles of new science. Walden was born in early September and after a week tucked into a plastic pod in ICU with tubes attached to his chest, legs and perfectly round little head, we brought him home. By the time we'd bumbled through the haze of his first six weeks, winter had crept in. We'd only taken him on a handful of strolls through our hometown of Elk Rapids and now we'd be sentenced to Life in the House until spring. We stayed bundled inside and read The Fledgling by Jane Langton (another tribute to Thoreau) and when forced to go outdoors, baited by promises of holiday gifts or hot cocoa, our aim was to get our sweet fragile son from car to door and back again with the least amount of exposure to the elements. Not wind nor snow nor hail could penetrate the layers of Walden's pilled hand-me-down snowsuit, topped with several layers of homemade blankets.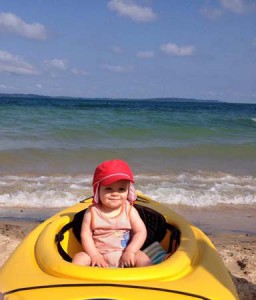 By March, the whole family was more than ready to get outside and "blow the stink off". We started small, with stroller walks on any day that poked up above 30 degrees. By May we had graduated to sitting on a blanket outside and by the time Walden learned to crawl and sit up, it was time to help Mom and Dad pull weeds in the raspberry patch. I worried that after so many months inside, our little one would have grown soft from the comforts of a temperature-controlled cozy home filled with toys and pillows and music. To my delight, though, Walden took to the outdoors like a true-blue naturalist. He could sit outside for hours (hours! a baby!) watching us do yardwork or mowing the lawn with our new self-propelled lawn mower. Seeing sunlight filtering through tree leaves put him into a trance.
It was almost summer and finally (finally!) time for the beach.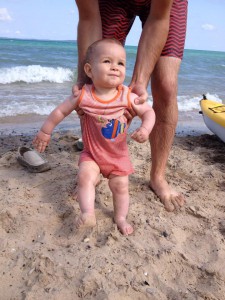 "A lake is a landscape's most beautiful and expressive feature. It is Earth's eye; looking into which the beholder measures the depth of his own nature."
–Henry David Thoreau, Walden, or Life in the Woods
In the hottest days of August last year, at nine months pregnant, there were days my only solace was wading in the bay at The Old Bathing Beach on the north end of Elk Rapids. It was the only place I could feel both cool and weightless, big belly up and watching the sun set.
The Old Bathing Beach* is one of four public beaches in Elk Rapids, a public spot fitted snugly next to a private stretch reserved for condos. It's either not known by many tourists or not preferred. This year especially, since the water levels have risen, there is sometimes only a blanket's worth of smooth bare sand to stake claim to. The rest of the area is covered in slender and sinuous dune grass. Often we're three of only four or five people nearby and we like it that way. The combination of wind and waves are sometimes loud enough that it won't do you much good to try and hold a conversation. The three of us are prompted by natural forces to be still.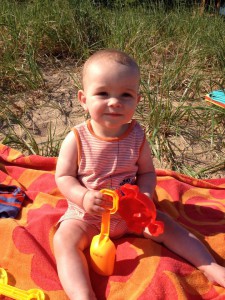 Taking Walden here has brought a sense of peace to our hectic lives. We daily feel the familiar tugs of conflicting work schedules, night wakings, late bills and last minute out-of-town visitors and often find ourselves living what feels like the opposite of Thoreau's declaration, "Simplicity! Simplicity! Simplicity!" and "as long as possible, live free and uncommitted." Still, at the end of the day we are a bike ride away from a quiet spot where baby and I can sit and make comb marks in the sand while my husband kayaks. On our way back, we hear locals and visitors laughing and enjoying the long warm days (getting shorter, minute by minute and so, that much sweeter). We come home and for at least a day after can feel the grit of strayed sand under our feet and are reminded of our remarkable luck.
As the weather turns cooler again and The Old Farmer's Almanac predicts more snow and frigid temperatures, as we blow out Walden's first birthday candle, and unpack our sweaters  and hats when it seems like we only just put them away, our small family will try and sometimes fail to remember Thoreau's advice to "live in each season as it passes".
*: I have inquired about the history of the Old Bathing Beach, but haven't found any such information. If you have any knowledge this area, please consider submitting to Grand Traverse Journal about it!
Annie Spence, when not being mother and wife in her wonderful little family, serves as a reference librarian at the Traverse Area District Library, Woodmere Branch. She is a recent transplant to Elk Rapids, and finds "up north living" very appealing.