Recently, I attended a meeting of the Grand Traverse Area Genealogical Society, and had the good fortune to hear a talk on the Reverend Peter Dougherty, delivered by Mr. Bill Cole, President of the Peter Dougherty Society. The life of early settlers, especially missionaries, is an intriguing topic, and I found myself back in the Nelson Room at Traverse Area District Library looking for more on Dougherty and his work in the field. I discovered a slim volume, a facsimile of an original, titled Short Reading Lessons in the Ojibwa Language, by Rev. Peter Dougherty.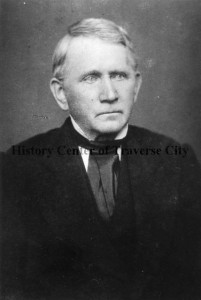 When Dougherty began in 1839 to serve as a missionary from the Presbyterian Board of Foreign Mission to the native population living in and around the Grand Traverse Bay region, what were his primary concerns? Certainly the logistics of any trip arise: how to get there, where to stay, what to pack. Compensating for his isolation would have played an important part in all his decisions, and I think not the least would be the worry to make himself understood!
Translating was a matter of necessity for 17th century fur traders and early Catholic missionaries, and some translation keys were published, but more as a curiosity than a work of instruction. Later, the pioneering work of Henry Schoolcraft and his mixed-race wife Jane Johnston (a native speaker of the Ojibwa language, author, poet, and resident of Sault Ste. Marie, Michigan) prompted an interest in translating between the languages as a means of retaining native culture and practices. However, it appears there was no drive for creating primers that were instructive and reusable until Dougherty's era of missionary work began. Dougherty seems to have mastered the language well enough to write Short Reading Lessons, printed for the Board of Foreign Missions of the Presbyterian Church in 1847, and we presume it was used as a guide for other missionaries serving in areas where the Algonquin language family was prominently spoken. Dougherty also provided a translation for the Ten Commandments and the Lord's Prayer in The First Initiatory Catechism, 1847.
Short Reading Lessons is a dual-language primer containing 20 lessons. The following format is provided for each lesson: an image is shown, then the image is described in English, followed by the Ojibwa translation. As the lessons progress, Dougherty's subjects moved from the secular (boys picking apples, a hunting party), to religious themes (Moses and the parting of the Red Sea, David and Goliath). One wonders if this was intentional.
Here's the language key provided in the front matter:
A has the uniform sound of a in the word mason.
E the uniform long sound a in the word e-den.
I long when it constitutes a syllable, and short in all other cases; e.g., as i in pine, and i in into.
O long, as in note.
O short, as in moderate.
U like u in ugly, when it follows e; like u uncorn [sic].
G the hard sound like k.
J the soft sound.
The rest of the alphabet like the English.
Ready to give lesson one a shot?: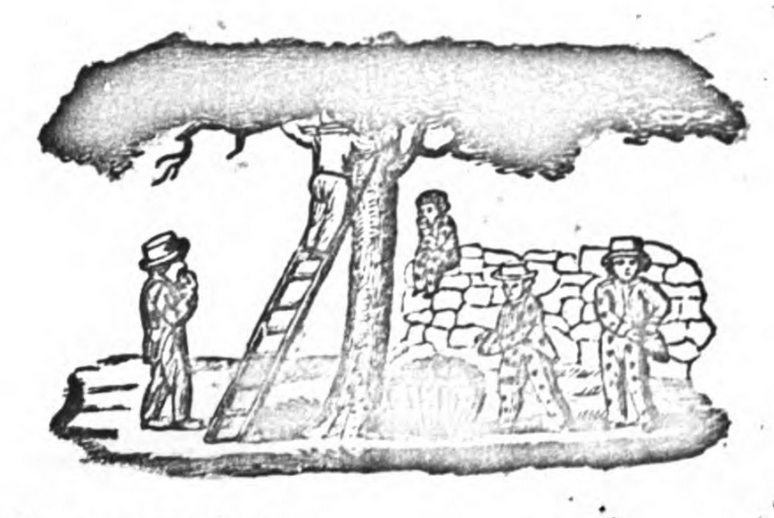 An apple tree.
Leaves.
A willow basket.
Stone Wall.
Branches.
A ladder.
Five boys.
Apples.
These boys are gathering apples.
Mes-he-nim-ah-tig.
Uh-ne-be-shun.
Wuh-tuh-be muh-kuk.
Ah-sen-e mich-e-kuk-nah-ko-be-je-gun.
Wuh-de-quh-nun.
Quon-duh-wah-gun.
Nah-nun que-we-zan-sug.
Me-she-me-nug.
O-go que-we-zen-sug o-mah-mo-zhuh-ge-nah-won me-she-me-nun.
If your interest is piqued, Short Reading Lessons is available in its entirety online through the Hathi Trust Digital Library: http://catalog.hathitrust.org/Record/100585421; or, feel free to visit us at Traverse Area District Library to take a look at the print copy. Sorry, we do not promise any level of proficiency if you finish the primer!
Amy Barritt is co-editor of Grand Traverse Journal.