In this month's issue, your Editors invite you to make history, not just read about it! Find out more in the article below:
The Traverse Area District Library (TADL) along with local grant partners, the History Center of Traverse City and Osterlin Library, Northwestern Michigan College (NMC) are asking for community support to vote Traverse City newspapers to win the Michigan Digital Newspaper Grant.
The community is encouraged to vote via twitter using #DigTraverse in posts from January 19-25. Each tweet equals one vote. Voting can also be done by sending a picture postcard to the Clarke Historical Library, Central Michigan University, Mount Pleasant, Mich., 48859. Postcards will be available at all TADL locations, the Osterlin Library at NMC, and the History Center.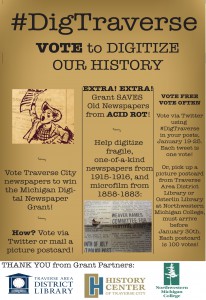 TADL and partners were selected as one of five finalists to receive a Michigan Digital Newspaper Grant administered through the Clarke Historical Library. The $2,500 grant award will help improve access to a winning Michigan newspaper. If Traverse City wins, the funds will be used for scanning and placing online nearly 10,000 combined pages of the Grand Traverse Herald, The Morning Record, The Evening Record, and the Traverse City Record­ Eagle.
The grant would also cover microfilming and digitizing of fragile, one of a kind newspapers of the Traverse City Record-Eagle from May 1, 1915 to December 31, 1916.
"The Record Eagle from 1915-1916 was never filmed as the originals were destroyed in a fire," said Amy Barritt, TADL Special Collections Librarian. "However, and thankfully, the History Center has collected a number of print copies from that span of time and would like to get them filmed and digitized for preservation purposes, which is a huge resource for our community."
The newspapers being nominated were published pre­-1923, and are therefore in the public domain and cover a large geographic area including Northwestern Lower Peninsula of Michigan, with an emphasis on Grand Traverse, Leelanau, Benzie and Kalkaska Counties.
Barritt said she and her grant partners are beyond excited to have made it this far and hope the community gets involved to digitize and preserve the region's local history.
"Our purpose in asking the public to determine the final outcome is so that, from five very good applications, the newspaper selected will serve the needs of the community that demonstrates the greatest interest in using the resource," said Frank Boles Director, Clarke Historical Library.
This project is made possible by funds from the Robert and Susan Clarke endowment, housed in the Clarke Historical Library, Central Michigan University.