by Julie Schopieray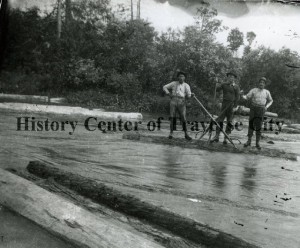 By the turn of the 20th century, much of Michigan's forests were depleted and large scale lumbering was over. The men who worked in the logging camps moved on and found other ways to support their families. One of these men was John R. Bush.  He was born in Ontario about 1865, son of Jesse and Maria Rosebush. Jesse was a Civil War veteran and moved between his home state of New York and Ontario, Canada, finally settling in Bay City, Michigan in the early 1880s.  He had his own drayage business delivering and hauling baggage and goods in his wagon, later becoming the "city scavenger" an appointed position where he used his hauling experience to pick up junk for the city.
"Johnny" Rosebush lived with his parents and six siblings in Bay City and in 1880, at the age of 15, was already working in the lumber camps where he likely gained skills as a log driver, riding logs down the rivers and breaking up log jams. It was a dangerous but exciting job requiring stamina, balance, courage and sure-footedness.
He was still working as a lumberman near Gladwin in 1886 when he married Maria "Mary" Hodgins. Over the years he dropped the "Rose" from his last name and started going by Bush.  
Their son Russell was born in Isabella county in 1889 where they lived until about 1897 when they took up residence in Traverse City. Bush started up a drayage and delivery service. One of his regular services was loading and delivering trunks and baggage for railroad and ship passengers.
His skills as a log rider did not go unnoticed.  By 1901, he started putting on exhibitions regularly during Fourth of July and Labor day celebrations, where he would demonstrate birling, the spinning of a log under his feet, and riding a log either standing and sitting, down the chute at the dam near the Union Street bridge. These events drew hundreds, even thousands of people.  One exhibition that was to take place on July 4th, 1902, was described in the paper:
When 9 o'clock came, an immense crowd had gathered to see John R. Bush do his fancy log riding above the grist mill dam and then shoot the chute. Cass street bridge and the banks were well filled… Union street bridge was crowded till traffic was blocked, the braces and timbers at the side and below held men as thick as black birds on a limb, the banks of the river on either side were lined with people, the chute had a goodly number of would-be spectators and even the telephone poles were occupied, one of them holding nine men, and below Union street there were probably 1,500 people more. In all it was estimated that at least 5,000 people were gathered to see the exhibition. – Traverse City Record-Eagle July, 5, 1902
Unfortunately, there was a mixup in communication and Bush did not show up. He had become ill, and word of his illness did not reach the organizing committee in time. Bush apologized, made good on his word and held another exhibition a week later. The July 17 performance was a success:
He mounted  a small log that would just nicely sustain his weight, did some fancy work near the Cass street bridge, took off both coat and overalls while on the log and finally, after putting these ashore, went through the chute. He started standing, straddled the log while going through the chute, and resumed his standing position while the log was still in swift motion through the chute. The log got crosswise in the current, making the feat still more difficult. – Traverse City Record-Eagle July 18, 1902
It seems Bush was not above taking a dare from a friend. In April of 1902, his friend Charles Germaine dared him with the following conditions:   to take a cedar pole only of a size Bush could carry and ride it down the river from Front St. bridge to the north Union St. bridge, and lighting a cigar during the ride. Germaine put up $5 against Bush's $10 to see Bush do it. It can only be assumed that dares like this were concocted in one of the local taverns the night before!
Log driver with spiked shoes and hook, the tools of his trade. Image courtesy of National Film Board, Canada.
There were many people who thought that the entire affair was a bluff… but in a very few minutes Bush appeared, and with him a crowd of men anxious to see him win his money or get a ducking, many of them did not care much which, so long as they were entertained… He took a pole, a cedar about 12 feet long and barely large enough to sustain him when he got it in the water, and carried it from his delivery wagon to the river… The wind was blowing so strongly that it was obviously out of the question to light a cigar, and it was harder to stay on the log, so the condition that Bush was to light the cigar was withdrawn. There were hundreds of people on the banks and bridge when the attempt was made…. He lay down on the log, and floated for a considerable distance…then he sat up, and later lay down again. When he passed under the Union street bridge he was greeted with applause. [Mr] Greenwald handed over the $15 that had been put in his hands. Germaine was a good loser, expressed no regret at parting with the five and said that Bush earned his money.
The feat created so much excitement that the log Bush rode on was put on display in front of Miller's Drug Store.  A few days later, a local artist drew a cartoon of Bush on the log quoted him "declaring it was easy and that he would go over Niagara Falls on a log some day."
The log-riding exhibitions made by John Bush became an annual event. In 1905 he put on a show at the Labor Day celebrations.:
Old grist mill dam, looking east on Boardman River. Image courtesy of History Center of Traverse City.
Union street bridge was lined with people to see John Bush do his log rolling act as the impression had gotten out that he was going down the chute. His exhibition, however, was given above the chute and consisted of birling and a number of fancy tricks with a log. Bush has lost none of his old time skill and his feats were given liberal applause. Mr. Bush was willing to go through the chute, but the Hannah & Lay company refused to allow the boom to be opened on account of the presence of a large amount of driftwood…
Beginning in 1900 Bush was known to take any opportunity to show off his skills in Traverse City. In August that year, an old part of the dam at the flour mill was being torn down and a good flow of water was coming over.  Rival drayman Mark Craw decided  he would ride a canoe over the old dam to show off in front of the people waiting for a delayed train at the station near the dam. John Bush wanted to do the same with a log, but could not find one at the time.  
Bush and Craw were not friends. In fact their rivalry went back quite some time and ended in a bad way.  In 1910, during an altercation over parking their rigs at a railroad station, Craw lost his temper and lashed Bush across the face with his horse whip. Bush brought charges against Craw and won his case in a trial.  Craw went on to become  the Humane Officer for the city as well as game warden.
John and his wife Mary had only one son. After Mary died unexpectedly in 1903, John was married again in 1905 to  Maud McClellan, who was 20 years younger than himself.    They had no children together.  John died in Detroit  on June 21, 1917, from "exhaustion from acute mania"  after a two-month stay at the  Eloise Infirmary.  His brief obituary stated that he was a well-liked and kind man. He was only about 52 when he died.
John R. Bush, for many years hack driver and baggageman in this city, passed away at the home of his son in Detroit, on Thursday, June 21 and was buried June 23 at Detroit. Mr. Bush was well known all over the city and it has been said, and very truly, of him, that anyone going the same way Johnnie Bush was, never had to walk, even if they didn't have the price of a ride. He had been in failing health for about two months. He will be greatly missed throughout the city. – Traverse City Press June 29, 1917
Please watch this charming video and remember John R. Bush and the many other sure-footed and courageous men who drove logs down the rivers of Northern Michigan:
Julie Schopieray is a local researcher, author, and regular contributor to Grand Traverse Journal.