"Reliving the Women's March" by Becky Beauchamp and March Attendees
Women's History Project's Souper Sunday is Sunday, February 5th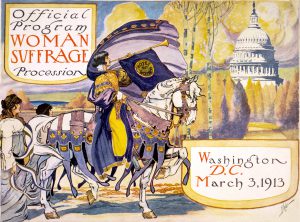 All are welcome to participate in a non-formal discussion of the Women's March on Washington, January 2017, at the Women's History Project's annual Souper Sunday. Several attendees, including Becky Beauchamp, a local organizer, will be present to answer questions about their experience. Attendance is encouraged for all  those who participated and those who wished they could, and anyone who has ideas about the March, women and our place in history.

The WHP Souper Sunday is an annual event for the public, featuring camaraderie, a casual and delicious soup luncheon, and a thought-provoking program, all for a $5 donation. The event will take place on Sunday, February 5th, from 12:30 p.m. to 2:30 p.m. in the McGuire Room of the Traverse Area District Library, 610 Woodmere Avenue, and will feature our traditional hearty lunch of soup, bread and desert – catered by Centre Street Café. Reservations are requested by February 1st. Call 231 421-3343 or email sansep19@earthlink.net.
Benzie Area Historical Museum presents program on "The House of David"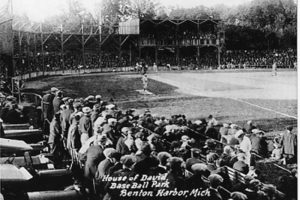 Thursday, January 12, 2017, "The House of David"  by Al Bryant. The House of David, a religious commune founded by Benjamin and Mary Purnett in Benton Harbor, MI, in March 1903, had a branch in Aral, MI, a ghost town which is now part of Sleeping Bear National Lakeshore in Benzie County  They were nationally know for their baseball teams, music bands and for the fact that men and women lived separately.
Al Bryant graduated from Olivet College and Western Michigan University, and gives programs for libraries, museums, schools, clubs, churches and libraries.
Cook to address Traverse Area Historical Society on Odawa Anishinabek History
JoAnne Cook will speak about the History of the Odawa Anishinabek people from the Grand Traverse Region in the McGuire Room at Traverse Area District Library, 610 Woodmere, on Sunday, January 15th, from 1-2:30pm.
JoAnne Cook is from Peshawbestown, Michigan. In 2012 she was elected to the Grand Traverse Band of Ottawa/Chippewa Tribal Council. JoAnne's professional experience has been with Tribal Courts. She was involved in the organization of Peacemaking and Healing to Wellness Court (Drug Court) – alternative courts utilizing tradition and culture to promote healing and restorative balance for those involved. She believes tradition and culture is vital to the Anishinabe way of life and has continued with her learning of the 3 Fires people. She presents to various communities on the way of life and culture of the Odawa. In addition, she has taught a course titled Native Law and Culture.