O.W. Johnson, the author of the following poem, was one of the Johnson Boys, sons of Johnson, all of whom were lumbermen. They may have all spent time in the woods, as O.W. mentions here, but the family made their money speculating and trading lumber, as opposed to cutting it themselves.
O.W.'s untitled poem is a humorous little ditty, written by an amateur poet  (at least, we did not find anywhere that he had been published.) It was recently rediscovered among the working papers of the Johnson family in the Traverse Area District Library Local History Collection by our good volunteer, Marlas Hanson, and we simply found it too fun not to publish!
Untitled Poem by O.W. Johnson
There was a well known lumberman who bought a Willys Knight
He thought his car was just about the only thing in sight.
And after work was finished and the stars were shining bright
He'd steal away from Sam's Cafe into the Silent Night.
Now as I said before this man was just a lumberjack
And had a little office up along the railway track.
But now he was a city man, a guy who had the goods
Said he "With this new Willys Knight I'll steer clear of the woods."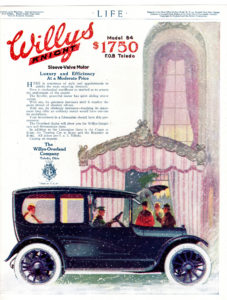 He stood before the shining car and thought she was a dandy
Electric lights and left hand drive would make it pretty handy;
So on one fine October day he thought he would decide
To take a Traverse City friend out for a little ride.
The question was where would they go — Old Mission would be nice
Said W.E. "I think that we have both been out there twice,"
She turned and looked into his eyes and said, "I guess you're right,
We did go to Old Mission, but it wasn't in the Knight."
"It's erysipelas to me just where we drive," said he
"There's gasoline and oil enough to run to Tennessee,"
"It that's the case" said she "I think we could run out to Empire,
I have the latest style in hats and wish to find a buyer."
They dined and had a pleasant time, to leave it seemed a pity
But soon were on the winding road that leads to Traverse City,
The stars came twinkling out above, the occupants were merry
The purring of the engine showed the load it had to carry.
Upon a hill ahead of them two glaring head-lights shown
The steering-gear was turned at once into a safety zone,
The other car came coasting down and after it had passed
The Lumberjack exclaimed "Good-night, I think we must be fast."
He pushed the throttle higher and the tires spun round and round
'Twas 15 miles to Empire and 10 to Traverse town,
He heard a crushing, grinding sound that made him have his fears
But then he never dreamed that he had ripped and stripped the gears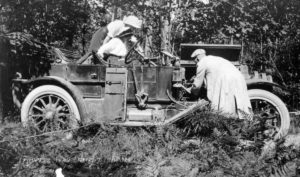 He sat there thinking what to do and then began to scold
The lady said "I'll stand it if I do not get too cold,"
The hint was plain enough alright, but Johnson was too sore
Said he "These damn Knight cars are punk I'll not buy any more."
The time was flying fast, and the moon was getting higher
The hero thought he'd warm her up by building her a fire
"Perhaps you wouldn't be so cold if you'd sit on the hood,
Don't be afraid I'm only going off to carry wood.
But wood was scarce expect a little just around the car
And Mr. Johnson didn't like to carry things too far,
He hurried to a farm house and called up Mr. Dutt,
A Traverse City auto man, quite small around the gut.
And soon this brave mechanic was flying to the scene
He glided up to Johnson just like a submarine,
"What in Hell's the matter?" Dutt yelled out as he stopped,
But Johnson was dumfounded and very nearly dropped.
"Holy Moses Johnson, I thought you were alone."
"Never mind that Dutt, I want to get back home."
"Have I hurt the car" said Mr. J. His eyes were full of tears.
"Oh no" smiled Dutt "not at all, you only stripped the gears."
SIGNED
O.W. Johnson
11-20-16