This article was discovered, copied, and notated by Julie Schopieray, regular contributor to Grand Traverse Journal and author of the fantastic new biography, Jens C. Petersen: From Bricklayer to Architect. Copies of the book can be obtained from Horizon Books, Amazon, or directly from the author.
To every man who fights, grins and wins, this little story is respectfully dedicated.
Jens C. Petersen
Architect
State Bank Building
Traverse City, Mich.
The Boss is Reminiscent
Twenty-five years ago a cross-eyed woman by the name of Borden, taught our school in a little village, and not-withstanding the fact that the years have changed my focus on most things, when I close my eyes to-day, I can still see "Granny Borden," as we young devils disrespectfully called her, and I realize now, as I could not then, that back of those crooked eyes there was a lot of straight thinking going on, and beneath that old fashioned, cheap, but scrupulously clean plaid waist there beat a warm and honest heart.
Tonight as the whistle blows and the boys and girls, singly, in pairs and in groups, trudged on their homeward way past our office window, there was one in the lot, possibly because her eyes were so hung that she could look around a corner and still see what was going on around her, who brought vividly and instantaneously to mind the old school house, the high platform, the long pine table, and back of it, book in one hand and ruler in the other, the school mistress, Miss Henrietta Borden, (that is the older and more respectful people called her "Miss"), but to the younger generation it was"Granny," (especially when we had to stay after school).
I had my hands on the desk ready to close it for the night, but those cross-eyes, as they looked up at our office window, and at the same time up and down the street and over in the next block, brought forth memories which stay the hand and force me to sit down in the twilight, close my eyes and for a half an hour, and until Carrie telephoned that the soup was getting cold, I could hear the hum of bees outside the schoolhouse window. I could see "Fatty Matt" diving into his dinner pail for bread crusts, which he viciously threw at Almeda– a way Fatty had of conveying to the said Almeda that she had all the other girls in the room backed off the boards– and I also instinctively placed my hand under my coat as I felt the jab of the pin in the end of a stick, guided by the warty but unerring hand of "Tart."
And what a delicious half hour that was, sketches and plans for houses, churches, government buildings, and even dinner could go to the dogs, at least they would have to wait for attention from me until my dream was finished.
In the hurry and rush of life, in the trying to keep what we have, and get more, did you ever sit down after banking hours, when you could not be notified of the note that was coming due tomorrow, in a place where no one could reach you from the outside, then from a cubbyhole in your memory bring forth a package, yellow with age, soiled with finger marks of youth, but containing a chapter of life's history, around which each succeeding year ties a fresh bloom of "Lilies of the Valley and  For-get-me-nots?"
It was Friday afternoon, our freshly dug worms were even now safely hid away in an old tomato can under the back porch, and, as tomorrow was a holiday, Percy and Tart would whistle under my window about four o'clock in the morning, and I would jump into my clothes, grab the piece of bread and butter mother had laid out for me the night before, shoulder my pole and hike across the fields and- – – but time flies. I must have another look at that Friday afternoon picture before I receive another hurry up call from home and am obliged to hide it away to be brought out, well, perhaps never, because I find less and less time for everything, except trying to keep from being run over.
Charles has just been called to the platform to speak his piece. By way of inspiration, he rubs a dirty leg with a stone bruised heel and still dirtier foot, and then by fits and starts he laboriously, and to the onlooker, it would seem by main strength, relieves himself or the old-time masterpiece, "The Curfew Shall not Ring tonight." When he is through the boys snicker as loudly as they dare. "Granny raps vigorously for order, then at a nod from her, Amy our star soprano, sings four verses of "Pull for the Shore," the whole school joining with her in the chorus.
When school is dismissed for the week, the boys yell, hoot, holler, turn somersaults, engage in an imitation fight or two, by way of showing off to the girls, old "Granny" turns the key in the door, and another one of life's chapters has been unthinkingly, but nevertheless irrevocably written. Percy and Tart are daring me to go swimming, but out of the corner of my eye I am watching a little Miss with yellow braids, who has carelessly dropped away from her companions, just as I am trying to do from the boys. The other girls notice it and quietly smile and whisper to each other, but not in an obtrusive way to embarrass her. Percy and Tart also see what I am up to, but a smile or a nudge is not expressive enough for them, no, indeed. They all become particularly chummy, throwing their arms over each other's shoulders and pointing their fingers at me, sing out at the top of their lungs, 'Jens has got a girl, Jens is going home to cut out paper dolls with his girl," and more of like effect, but I never faltered, those two yellow braids pulling me harder in the direction of the girl than the taunts and jeers of Percy and Tart could overcome, and I pictured to myself two boys who would, each in their turn, receive a nice licking before school opened Monday morning, and I marched over to little Miss Yellow Hair, and the shy but appreciative look I received not only blotted out Percy and Tart and their stinging words, but so blinded my eyes that my world narrowed itself down to a few trees, a path just wide enough for two, a slip of a girl and an awkward country boy. I wonder where she is now, it cannot be that she is married and has sons and daughters of her own, but why not? We were the same age, and look at my boy and girl, not quite so heavy around the waist but both of them growing to be as tall as their mother.
The years have come and the years have gone, as years have a way of doing, bring me their mixture of joys and sorrows, of successes and failures, but they have left their memories with me.
There are so many roads leading in so many different directions from that little school house that I have lost track of most of my boyhood friends. Some of them I can still place. Fatty Matt, who was, as I remember it, one of our brightest boys, and one for whom a brilliant future was predicted by the entire district, is tending bar I believe in Chicago. Joe, big hearted, warm hearted Joe, I believe died a few years ago in a little town out west. Willie, who was the prize pumpkin in the row, when it came to speaking pieces and showing off on the last day of school, was once Mayor of the little city, is in line for Governor and United States Senator, and will soon be a member of Congress and be helping to make our financial laws.
And what of me, well I am in the architectural business, yes, and successful too, at least from a worldly view point. I have one of the finest offices in the state of Michigan, have a nice force of draftsmen and designers and turn out the best work in our line in the country, but really it makes my heart ache when I think of the hills I had to climb and the many hard bumps I received before I reached a point where I dared speak of an assured success. When I left school at fifteen, of course I must work, so father secured me a job to work with him, learning the art of laying brick, and I put on a pair of overalls and went at it. I served my apprenticeship under a mighty good man. He was not the largest contractor in the country— he didn't claim to be, but he did turn out honest work, and while the old gentleman is away out in sunny California, over sixty years old and still at it, and probably does not know that I am eulogizing him, I want to say that when he closes his eyes for the last time the world has lost at least one honest, competent and operative mason.
Finally, in one way and another, and I trust without crowding my neighbors into the ditch, I accumulated enough money to take a course of study in designing, then secured a nice job for a few years with one of the biggest architectural firms in the United States, in an office in the city of Chicago, attended night school and the University of Illinois, finally passing the examinations and accumulated enough to make a humble start in an office for myself. The proudest moment of my life was when I had my first sign placed on my office window. That was some time ago, and the office, while large enough to be noticed quite some locally, was small as compared with our present one. Of course at that time I did not have anything like the facilities that I have today for turning out quality and quantity, but it was mine— the thing I had been striving for had come to pass, and for a little while at least I was peacefully happy.
Perhaps I have not received more bumps than come to all of us. In the light of years I have come to believe that I needed them for my development, at any rate I got them, as you get yours. If we use them to our advantage, as I believe we may, well and good, otherwise they may lame us, keep us to the rear, and we go through life nursing our bruises. Just now there isn't a sore spot on your Uncle J.C., not a single one, because taking everything  into consideration, we have the best equipped office for the furnishing of plans for homes by mail in the United States, I realize that this is talking pretty loud, but it is a fact nevertheless.
I believe we can turn out more work of the right quality and at a lower cost than any other institution of its kind in existence.  When you visit Traverse City, come up and see us. I will refrain from talking business unless you want to, but I will show you the prettiest little city your eyes ever feasted on. We have miles of paved streets and shady drives, thousands of well kept, happy homes, the finest trout streams and the prettiest little bay in the country, and last, but not least, it would give me pleasure to act as your host, and incidentally take you on a tour of inspection through the cases and files and equipment of what I know to be the most thoroughly up-to-date architect's office anywhere.
I issue a large and expensive catalog, showing a few of the hundreds of different styles of houses we plan, and if you cannot possibly make a personal visit, write and I will mail you the catalog, also quote some prices for plans for your home which will be just as attractive to you as the plans represented.
I say again, "come if you can, but if you can't come, write to me about plans for your new home."
You can remember the place and I trust you will be able to remember the name.
Yours very truly,
JENS C. PETERSEN, Architect,
418 State Bank Building  Traverse City, Mich.
NOTE– My book, the Cream of 1000 Plans, is an expensive catalog and cannot be sent free. If you will enclose 50 cents, coin of stamps, in your letter, I will credit you with this amount when you order your plans.
J.C.P.
---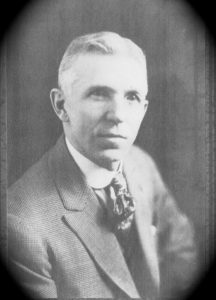 Jens  C. Petersen came to Traverse City in 1884, at the age of eleven. Research shows that his parents lived in and were running a boarding house for construction workers, near the site of the Northern Michigan Asylum. The nearest school would have been the Union School between 7th & 8th Streets, where Central grade School is currently located. Petersen talks about his teacher, Miss Henrietta Borden but it's unclear whether that was his teacher's real name or if he changed it for the story. I haven't yet found that there was a teacher in Traverse City by that name between 1884-1889 when Jens would have been in school, however there was a Harriet Borden who taught in Kalkaska for many years between 1880- 1915. It is possible she spent a term in Traverse City as Jens Petersen's teacher.
He talks about "Willie" who was the prize pumpkin in the row, who goes on to be mayor and further into politics. It's likely he's speaking of William D. C. Germaine, locally known  in later years, as "Wild Bill". Germaine was three years older than Petersen, but would have been at the same school. He became mayor of Traverse City between 1908-1910 and again in 1912-1913. Unfortunately, Mr. Germaine did not become the successful man Petersen had envisioned in his 1911 writing– in 1912, Germaine was attempting to make a bid for Congress, but by 1913 was removed from office by the governor for extorting money from a local saloon keeper. Germaine was known locally to have trouble with "the bottle." In 1916 he  was arrested for attempted arson, after trying to burn down his his wife's house after she filed for divorce. In 1923 he was arrested for bootlegging and arrested again in 1926 for prohibition violations.  He died in 1943.
"Percy" would be Percy Holdsworth. He was a year younger than Jens but while Jens only completed the 8th grade, Holdsworth finished high school, graduating in 1892. He then attended the University of Michigan, attaining a degree in mechanical engineering in 1898.  Holdsworth died in Chicago in 1925.
You can read more about  the life and work of Jens Petersen in Jens C. Petersen: From Bricklayer to Architect. Copies of the book can be obtained from Horizon Books, Amazon, or directly from the author.
Stay in touch with author Julie Schopieray and Jens on their Facebook page.
---
I wanted to see if the phrase "off the board" was a commonly used in 1911. The jury is still out, I did find it defined here. In the publishing world, it doesn't look like it was a common phrase until in mid-1920s, atleast within the monographs scanned in the Google Books Project Ngram Viewer.