Of Things Ignored and Unloved: A Naturalist Walks Northern Michigan contains over thirty essays by the esteemed Dr. Richard Fidler. (Before you ask, no, he is not standing near me engaging in threatening gestures as I write this review. It is a totally unsolicited piece, however, the quality of this collection should be commended on the highest mountaintops and lowest freshwater sponge-riddle waterways. For real.)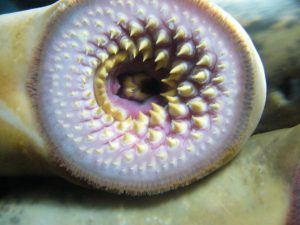 Long time readers of Grand Traverse Journal will recognize parts of some of the essays, as many of Fidlers' first iterations of these essays were published in this very magazine, a very distinguished honor to be sure! He covers nearly everything we regular, un-inquisitive folk visually pass right over, from ant nuptials to Trailing Arbutus. He includes the misunderstood milk snake, the repulsive sea lamprey, and the confusing clubmoss, giving each organism he sets his sights on the respect they are due. What are these things, and what, if anything, do they do? You will find these answers and more in this collection.
This is a truly unique collection, one I have not seen the like of before. Often, descriptions of the flora and fauna that are not well-loved (seal pups and baby orangutans, for example) are limited to brief, uninteresting, and ultimately uninformative encyclopedic clap-trap. Take, for example, this description of freshwater sponges from Britannica:  
"Freshwater sponge, any of about 20 species of the genus Spongilla (class Demospongiae, siliceous sponges), a common, widely occurring group. Spongilla species are found in clean lake waters and slow streams. Freshwater sponges are delicate in structure, growing as encrusting or branching masses. They usually appear greenish because of the algae that live on them."
Boooooorrrrringgggg. Also, nothing about what really interests me, which is primarily, what would this thing be like to squish between my fingers, and where can I see one in northern Michigan? Fidler answers both questions in his essay Godzilla vs. Spongilla: A Contrast in Lifestyles.
Perhaps you are interested in all things unique to our region? Fidler covers local phenomenon including ventifact fields and lag gravel, seiches specifically in Grand Traverse Bay, how the windstorm of 2015 affected local forests a year later, and other similar curiosities.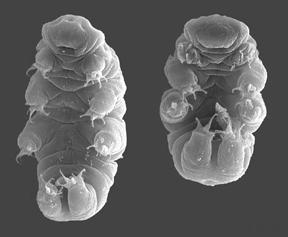 Truly, one of my favorite additions to these essays is Fidler's hand drawn illustrations. Unlike in Grand Traverse Journal, which I typically illustrate on his behalf by using just okay, public domain images, you will get to see these organisms through the artistic pen of a man who cares. My favorite? The image of the water bear, which you can see in the essay At Play With Water Bears. I've never thought of Tardigrades as adorable before, but I certainly do now!
"But Amy, I'm not excited by nature, what does this collection have for me?" If you are one of these people (and I'm not accusing you if you are), I dare say you have not looked at the world around you with Richard Fidler. His writing is informative, engaging, quick, and light. If you believe you have no interest in its content, I challenge you to pick up a copy, flip to any random page, and not be fascinated by some tidbit you had never considered before. This would be a fun book to read with a younger person who is just getting interested in the creepy-crawlies whom we share the world with. Impress your friends, astound your enemies, and open your eyes to the natural world of Northern Michigan with Fidler as your guide!
Of Things Ignored and Unloved: A Naturalist Walks Northern Michigan is on sale at Horizon Books, 243 E. Front Street, Traverse City; and online at Amazon.com.