by Dr. Cliff Sjogren, local history author
Editor's note: Typically, Grand Traverse Journal focuses on the five-county area surrounding the Bay. However, this article features our southern neighbor, Cadillac, located in Wexford County, a community that lived through the same growing pains as any in the Bay region. This is but one article in Mr. Sjogren's new book, "Timber Town Tales," a collection of 38 articles on Cadillac and Wexford County, originally published in 2014 in the Cadillac News.
Thanks to our area's remarkable history, my retired life has been enriched immeasurably by my varied museum volunteer projects.
When we launched our website a few years ago through the Cadillac News web service, CNDigital Solution, I somewhat thoughtlessly agreed to handle viewers' questions submitted to our website. Since then, I have responded to hundreds of inquiries from all over the U.S. and many foreign countries. Because the site is "name & place searchable," many inquiries are from Sweden and other northern European countries seeking long-lost relatives.
Most foreign inquiries, however, come from Ireland. The Irish, too, have a Wexford County Museum and I rather enjoy responding to those who mistakenly find us as they seek information from our namesake county museum in Ireland.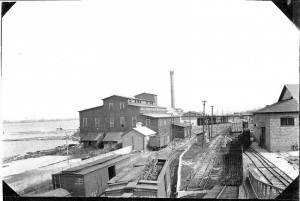 A few years ago, an Ann Arbor researcher emailed me about a German saboteur who set fires and destroyed chemical factories in several Michigan cities during World War I. He suspected that Cadillac was one of his targets. Having read and indexed the two celebrator issues of the Cadillac Evening News that included a historical chronology of thousands of news items dating from 1871, I responded that it was unlikely such an event took place in Cadillac. I added that if I had the approximate date of the event, I would "see what I could find." Later, when I accessed our Cadillac Evening News index, I found the following 1916 chronology entry:
May 18- The Cadillac Chemical Co. group of buildings was destroyed by fire starting about noon. The company was making chemicals for war purposes and its product was in the greatest demand in the concern's history at high prices. The loss is estimated at $50,000. Next day Charles T. Mitchell, president, said the plant would be rebuilt as soon as possible.
My researcher friend was delighted with our find that validated his supposition. No mention of the fire was included in a feature story about the chemical plant. The facility was located in the Cobbs and Mitchell complex about where a Pearl Street extension would end at Lake Cadillac on Holly Road. Their products included wood alcohol and acetate of lime, both used in teh manufacture of explosives. They also made pig iron from the charcoal residue. According to the inquirer, the company's products were shipped to England and France for their military uses against the Germans prior to America's entry into the war in 1917.
Another interesting inquiry concerned toasters.
"Did you know that your community is historically significant as a maker of toasters?" was the question. It was submitted by the editor of the Saturday Evening Toast (no joke!) who claimed that a small firm, the Cadillac Electric Manufacturing Company, was the second U.S. manufacturer of toasters. General Electric made the first toasters.
The small company, organized in Reed City, moved to 216 South Mitchell Street in Cadillac where it was incorporated on December 29, 1910. The short chronology entry included, "…they planned to manufacture a light electric stove."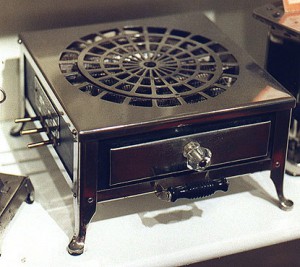 The toaster, depicted here, was a combination stove and toaster that was engineered to have the entire breakfast prepared for eating at the same time. One ad displays a man reading his morning paper and drinking coffee while his breakfast was being prepared beside him. Search "Cadillac Toaster" online and enjoy several views of a product created and manufactured in Cadillac and still displayed at toaster-collector conventions around the U.S. Unfortunately, we do not have this important historical product to display and we would be most appreciative if one were to be gifted to the Society.
Our very active website with its 150 hits a day continues to yield a number of historical events that might never have otherwise been revealed.
References:
Cadillac Evening News celebratory editions are available in their entirety online through Central Michigan University's Digital Newspaper Portal, http://condor.cmich.edu/cdm/search/collection/cadevenews/order/title
Cadillac Evening News Index is also available through Central Michigan University's Digital Newspaper Portal, http://condor.cmich.edu/cdm/compoundobject/collection/cadevenews/id/119658/rec/2
Dr. Cliff Sjogren is a volunteer for the Wexford County Historical Society & Museum, and was highly involved with the newspaper digitization and indexing project recently undertaken by the Society. His book, Timber Town Tales, is his first book on local history, and is available for purchase at Horizon Books, Traverse City and Cadillac, as well as through the publisher, Cadillac Printing Company, Inc. (http://www.cadillacprintingco.com/). All money generated by book sales beyond printing and mailing costs will be donated to the Society. Sjorgen enjoys history, Alpine skiing, and his hometown of Cadillac, Michigan, where he resides with Patricia, his wife of 62 years.