A quality scholarly study is a valuable tool for any researcher, which is why so many reports, dissertations, and the like, have been preserved by Traverse Area District Library, Traverse Area Historical Society, and Northwestern Michigan College.
This piece of scholarship comes to us from Allen Belden, a student at the University of Oklahoma in 1938. His work, title "Land Utilization in Traverse City, Michigan," provides a fairly detailed snapshot of land use at the time. This excerpt focuses specifically on transportation opportunities, especially the various points along the bay shore used by various companies. Maybe one of our readers is interested in updating this study?:
"The Transportation Patterns
Probably the most basic land use features of present-day Traverse City are its transportational forms. These lend themselves to a ready classification into three sub-types, namely, wharves, railways, and Streets. The patterns of these will be described and discussed separately.
Wharves: In Traverse City the facilities for waterway transportation consist of five wharves at which boats larger than very small craft, such as rowboats, may dock. Four of these are on the bay side of the peninsula formed by West Bay and Boardman River where they are centrally located along the city's waterfront. The fifth wharf also is on West Bay, but it stands alone about one block east of the mouth of the Boardman River. From west to east these wharves are the Hannah, Lay and Company wharf, the J.C. Morgan Company wharf, two municipal wharves, and the Cherry Growers Canning Company wharf.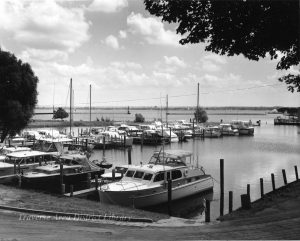 Only a meager use is made of any of these wharves at present. Hannah, Lay and Company, distributors of coal and building supplies, use their wharf to receive and store coal. The J.C. Morgan Company, cherry and apple canners, receives shipments of coal by water. The westermost municipal wharf has on it a little-used public warehouse. The municipal wharves together enclose a small harbor which is used during the summer by small pleasure craft. Signs there advertise "Boats For Rent" and "Deep Sea Fishing". The Cherry Growers Canning Company wharf is used not only to receive coal but occasionally also to ship canned cherries.
The present utilization of Traverse City's shoreline for waterway transportation facilities is meager for several reasons. Grand Traverse Bay is about 30 miles long, and the city, which is at the inland ends of the bay, is not close to frequently used Great Lakes shipping lanes. The city's commercial and manufacturing establishments are small, and in most cases they ship and receive goods in the less than boat-load quantities. Railways and trucks can transport small quantities of goods more efficiently than can lake boats. The number of places that can be reached by lake boat without extra bulk-breaking is small in comparison with the number of places that can be so reached by highway or railway. The southern end of West Bay, although better than the southern end of East Bay, is not a good harbor. It is more than two miles wide and exposed to the full force of northerly winds. The depth of water at the end of Hannah, Lay and Company wharf, which is three hundred feet long and extends into West Bay at right angles to the shoreline, is only thirteen and one-half feet. It is so shallow that none but the smallest of Great Lakes cargo vessels (2800 tons) may safely dock. Even these must partially unload before completely docking. In addition, Grate Lakes transportation is interrupted during about six months of each year because of cold inters. These conditions limit the use made of the present wharves and discourage construction of additional ones.
Other water bodies are even less used than West Bay. Boardman River and Boardman Lake are not navigable by boats larger than rowboats. An abandoned dam with a fall of six feet, between Cass and Union Streets, is an effective barrier even to these. The shoreline of East Bay is considerably shallower than that of West Bay and otherwise has the same disadvantages to shipping.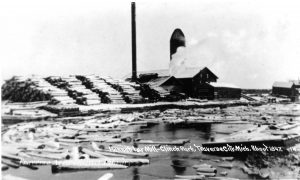 In spite of the scant use of Traverse City's waterfronts for waterway transportation facilities, the shoreline where the present wharves are located has advantages over others. The most significant factor affecting the location of all but the Cherry Growers Canning Company wharf is that the shoreline so used has from the start been centrally located with respect to trade and industry within the city. Traverse City's first important industry was the Hannah, Lay and Company sawmill which was built on the peninsula between West Bay and Boardman River near the northern end of what is now Union Street in 1852. This company cut logs in the Boardman River basin in winter and floated them downstream to the mill in spring. The logs were fed into the mill from the river bank, and then manufactured lumber was loaded into the stern hatches of timber boats which docked a few yards away on West Bay. This was an admirable arrangement, since it reduced the handling of logs and lumber on land to a minimum. No other site in or near Traverse City had comparable advantages for such an industry. later, when railways entered the city, in 1872, 1890, and 1891, their chief objective was this mill, and the site of the early lumber wharves became a contact point for railway and waterway transportation as well as a focal point for railways. Because of this and the fact that Boardman River has been bridged by two north-south streets to improve the accessibility of the peninsula from the south and east, commercial and manufacturing establishments were attracted to the vicinity of the old mill. Even today this area is centrally located with respect to land transportation routes, and , for that reason, such companies as use Great Lakes shipping find the location favorable for wharves.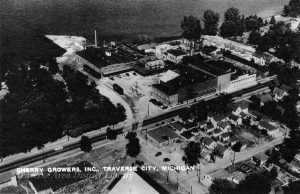 The Cherry Growers Canning Company wharf is now and, except for the fact that it is not located near the heart of the city's transportation pattern, enjoys all of the advantages of the older wharves. A special spur was needed to give it railway accessibility, however."