A treasure trove of humorous poetry written by students at Sault Ste. Marie High School for the Su Hi student newspaper was discovered in the Local History Collection of Traverse Area District Library by intrepid volunteer Marlas Hanson. Hanson has been working with the papers of the Johnson Family, who were lumbermen of Traverse City. Besides documenting the family business, consisting of securing lumber for the Michigan Paper Company, a paper mill in Muskegon, the collection also documents the courtship and marriage of W.B. Johnson and Earnestine Gunn. We believe Earnestine may have worked at Su Hi with the student newspaper, and that is why the Johnson family had these gems in their collection.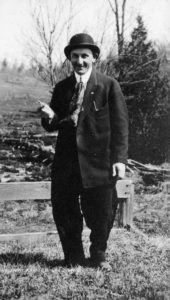 When we look at black and white photographs of bygone eras, we have a tendency to think the people must have been as stiff and stodgy as they seem to be on film. Surviving documents, like this poem, prove otherwise. We wish we could give credit where credit is due, but alas, the poem is unsigned.
Lament of an Obese Bachelor
I've made ardent love
To a good many girls in my time
But somehow
I never seemed to make much of a hit
With them
They always said I was too fat
And made fun of my clumsiness
Little realizing
How sensitive I was about it
And how much their light-hearted comments
Hurt me.
I remember well the time I essayed
To carry Mary Hilliston across
The stepping stones in Grimes' Creek,
She the while admiring my great strength,
When all of a sudden
In midstream
I slipped and fell dropping her
Into two feet
Of muddy water;
And how mad she was about it!
And the cutting things she said!
I've never really gotten over it.
I'm not so very old
Even now, only thirty-four
But I've lived so long here
In this same town
That they've come to regard me
As a permanent
Fixture.
They're always asking me
About it
And asking me why I don't
Marry Mary Hillston now
Since her first husband's died
And left her well-fixed.
But I
Never will forget the things she said
About me that day,
Besides
I never did care
For widows.