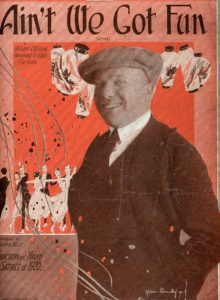 "Bright-eyed and bushy-tailed" is the phrase the old folks tell me is appropriate for the morning attitude (ugh), but despite how you tackle the day, each of us has our hours to fill. Perhaps you will accomplish some daily chores, get in a little of your paying gig, and generally let the time go to waste. Or, you can take a cue from the new book, How the Good Times Rolled by author and Grand Traverse Journal editor Richard Fidler, and live it up like we once did.
Nostalgia is a driving force behind this work, as well as Fidler's typical curiosity for the things we take for granted. Fingering modern technology as the culprit, Fidler discusses briefly in the introduction a common lament that is heard on the street, that people seem to have lost the ability to engage in conversation, to have spontaneous fun, or to make time for new activities.
This lament begs the questions, "How were things different 'way back when'? How did people enjoy themselves?"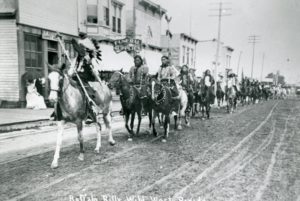 Using a variety of sources, including diaries and other personal accounts, contemporary newspapers, and the archives of various clubs and social groups, Fidler sought to answer these questions. Each chapter provides some brief history about the given subject, from outdoor sports to celebrations. I found his writing to be read easily with children as well, rather lively and engaging. Interestingly, Fidler found "the Traverse region does mirror the social milieu of America generally," despite the region's relative isolation and lack of diversity.
The real beauty of this volume is the quality and quantity of photographs used to illustrate this social history. A passing familiarity with photographs taken in the late 1800s to the early 1900s leaves one with the impression that people Just. Didn't. Smile. But Fidler has plumbed the depths of several amazing collections, from the Benzie Museum and Historical Society, the Leelanau Museum and Historical Society, and the Traverse Area Historical Society collection held at Traverse Area District Library, to reveal a significant truth: people of the past loved having fun!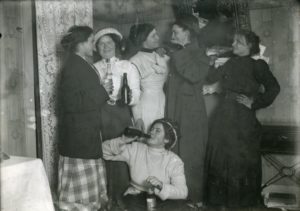 Some especially notable images are those of Buffalo Bill's Wild West Show, a traveling attraction that visited Traverse City in 1898; images of people enjoying libations and other vices (even during Prohibition); sheet music covers from the famed Liz Bannister collection, depicting popular dances; and amazing action images of horse racing, bicycling, and sailing (and ice boats, too!)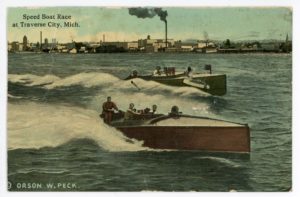 I recommend treating yourself to the hardcover edition, which contains both color and black-and-white images. Again, this is fun to read with others or alone, and any age group will find something within to marvel at. If you have a summer home around these parts, this would be especially nice to take back to your winter residence as a coffee table book.
Whether you want to learn more about the past, or reminisce about how it was "way back when," How the Good Times Rolled: What We Did for Fun Before the Digitial Age is the book for you! Available at local booksellers and Amazon.