The October 13th edition of the Grand Traverse Herald displayed a note about a happy event:
Now a Citizen

Willie Lee, one of the proprietors of the Chinese laundry on Front street, has renounced allegiance to the Chinese empire and has the more effectually severed his connection with his native land by having his queue shorn from his head, which forever shuts him out from within the Chinese domain.  The ceremony was conducted Saturday night in the Hotel Leelanau with considerable solemnity in the presence of several friends and a banquet followed.  The finishing touches to the queue cutting ceremony were effected by Jud Cameron.

Willie Lee is a very intelligent celestial and for a long time has contemplated becoming a full fledged citizen of the United States and has already procured his first papers.
That short note in the newspaper calls up a number of questions.  What was it like to be Chinese in Traverse City at that time?  What about the shearing of Willie Lee's queue—was that hairstyle really connected with being Chinese at that time?  Did he actually become a citizen of the United States?  Just a few words suggest a big story.
The Chinese in America were regarded as an oddly different kind of human being.  Many wore their hair in a long braid (derisively called a "pigtail") and dressed in clothes distinctly un-American.  In China the queue was a required style for men and failure to observe the custom sometimes brought punishment.  The curious word "celestial" (a Chinese person) is derived from a name for the Chinese Empire of the time, T'ien Ch'ao, the Heavenly Kingdom.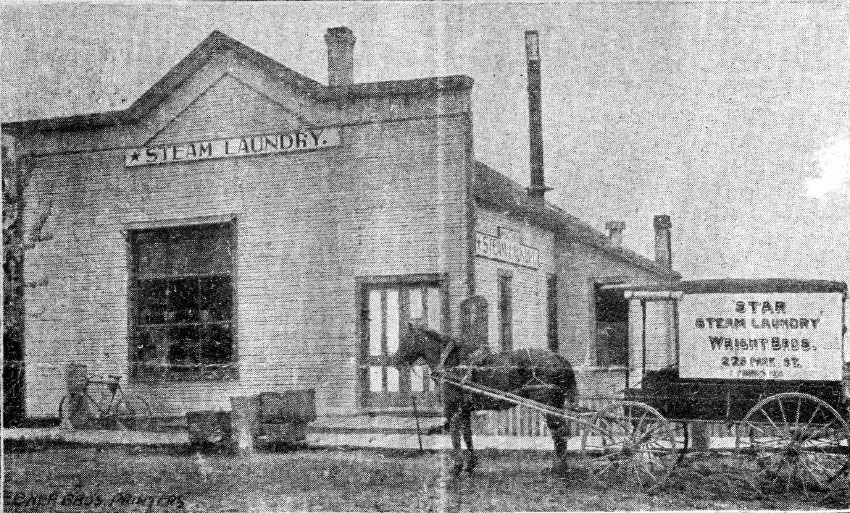 We learn about the tiny Chinese community in Traverse City at the turn of the century through snippets of text in local newspapers.  Willie Lee was said to be highly educated, the only Chinese person to affect a Western appearance in hair style, clothing, and general appearance.  In 1898 he was said to have visited China for two years, touring the country by bicycle.  Much esteemed by local people, Willie Lee was described as a generous and kind person.  He gave out flower bulbs at Christmas which could be grown in dishes filled with water and stones, and distributed embroidered handkerchiefs among his friends. 
An article dated January, 1909, tells us more about Willie Lee.  We learn he was a splendid cook, especially skilled in preparing chop suey and bird's nest soup, a delicacy that requires nests imported from China.  Most likely the editor of the newspaper was invited to a New Year's feast, given the writer's enthusiastic endorsement of the food. 
The laundry presented a frightening aspect to children.  In 1962 Jay Smith tells about his experience visiting the place in the mid-1890's:
About the middle of the 90's of the past century, Sam Wing Kee came here from Chicago and rented a little building about where the Penney Store is now located, and started a laundry.  He imported five or six Chinese men who did the work and the laundry flourished for perhaps ten years.

The Chinese workers could speak no English, wore native costumes and had long braids twisted about their heads.  We recall very well going in there with some older person and looking out in the steamy back room where the laundering was being done, and then being mighty glad to get out alive.  They scared the daylights out of us.
The cachet of foreignness frightened children of the time.  Persons of a different race, different dress, different customs—all speaking a foreign language—made them want to run for their lives out of the laundry.
What happened to Willie Lee? Another article dated six months later informs us that Sam Wing Kee, better known as Willie Lee, after 14 years in the laundry business, sold out to one Lem San of Chicago.  Lee was said to have taken out the necessary papers and become an American citizen, wearing American clothes and cutting off his queue.  His business was successful in Traverse City and he made many friends, his success related to his hard work and earnestness.  The newspaper reports he will return to California and marry "the girl he left behind him," later planning to attend school there.   
With regard to the marriage, it must have been a long wait for the couple; some 13 years he toiled in a tiny Northern Michigan town as she presumably waited patiently somewhere in China.  Lee would have been in his mid-thirties when he left Northern Michigan.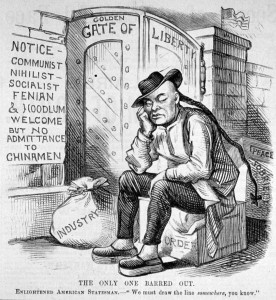 Former residents of the Heavenly Kingdom had a hard time in the United States in the latter part of the nineteenth century.  After helping to build the transcontinental railway, completing it in 1868, they suffered a catastrophic defeat in Washington with the passage of the Exclusion Act of 1882.  Passed by politicians responding to widespread hatred of Chinese workers in Western states and elsewhere, this legislation cut off immigration completely from China, even going so far as to forbid citizenship to immigrants already settled here.   The Act was repealed in 1943 when the Chinese were seen as the "good" Asians (as opposed to the Japanese) during the Second World War.
Given the forces working against any Chinese getting United States' citizenship during the 1890's, this writer wonders how Willie Lee (Sam Wing Kee) ever became an American citizen.  Was the editor of the newspaper ignorant of the Exclusion Act—or did Willie Lee have special papers made that got him around the brutal effects of the law?  We don't know.
What we do know is that Traverse City had a Chinese laundry around the turn of the twentieth century, that its proprietor was highly regarded, that he moved away to find a wife and a better life for himself.  With regard to minorities of any kind, Traverse City was isolated, situated far away from larger populations to which minority settlers eventually returned.  The area never had a substantial black population.  Even the tiny Russian Jewish community melted away as children left for other places.  Julius Steinberg's daughters departed for Chicago, presumably to find husbands of the same religion.   Traverse City never seemed to gain the critical mass required to maintain communities of diverse ethnic background.  Only Bohemian and Polish immigrants stayed long enough to exert an impact on the area.
Still, we wonder what happened to Willie Lee/Sam Wing Kee.  Did he achieve citizenship?  Arrive in California and marry there?  Go to school?  Have children?  We may never know.  Some persons live with us only a short while, only to set sail and vanish.  That is the way it was with Willie Lee.