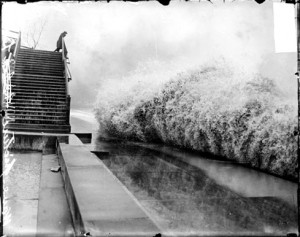 Honoring all hands lost at sea has been a ubiquitous ritual of life in the Great Lakes State. Despite the beauty of the Lakes, we are always fearful of the next Great Lakes Storm of 1913, or a November gale. Earning a living from the Lakes has never been an easy task, and we honor that struggle, sometimes in very creative ways.
Were you aware of the monument to those lost at sea that lies at the bottom of Little Traverse Bay? A 1,850-pound, Italian marble Crucifix rests there, about 800 yards off Sunset Park in Petoskey. Officer Denny Jessick of the Emmet County Sheriff's office has long invited the public to view this memorial through the ice. These viewings began in 1986, around the same time that the Crucifix was moved from it's original site, about 1200 feet off the Petoskey breakwall, where it was placed in 1962 by the U.S. Icebreaker Sundew.
This is a unique event honoring our communion with the Great Lakes, and a respectful (albeit fun) way to introduce people young and old to the history of that communion. A fun historical tidbit to throw out there while you're on the ice: of the 12 ships lost at sea during the Great Lakes Storm of 1913, 4 are still missing. The most recently found was the Henry B. Smith, likely discovered in June 2013.
That's right readers, time for a History Road Trip! The viewing of the Crucifix is always free and takes place if the ice is thick enough; Look for a tent at the viewing area. Viewing dates are publicized on the County home page, www.emmetcounty.org, in the Petoskey News-Review, and on local Chamber of Commerce web sites.
Amy Barritt is co-editor of Grand Traverse Journal.