"The Dennos Museum Center – 25 Years and Growing," talk delivered by Eugene Jenneman to the OMPHS
The Old Mission Peninsula Historical Society will meet at 7:00 p.m., February 2, 2017, at the Old Mission Township Hall, 13235 Center Road, Traverse City.
A short business meeting will begin at 7:00 p.m., followed by a
presentation by Dennos Museum Executive Director, Eugene Jenneman, on "The Dennos Museum Center – 25 Years and Growing."
The meeting is open to the public, and visitors are welcome. Donations are encouraged, as the Historical Society maintains many spots of interest on the Old Mission Peninsula.
For further information, please e-mail President Barbara Berthelson at bbrthlsn@gmail.com , or telephone Judith Weaver at 231-947-0947.
"Steamers of the Grand Traverse Bay Line," Steve Kelsch to address TAHS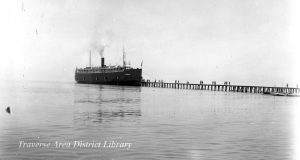 On the 3rd Sunday of every month, the Traverse Area Historical Society presents a program on local history. This month, we welcome Society favorite Steve Kelsch, who will speak on Steamers of the Grand Traverse Bay Line.
Program is free and open to the public. Program will take place Sunday, February 19th, from 1-3pm, at the Traverse Area District Library, McGuire Room, 610 Woodmere Ave.
Women's History Project hosts program on "Reliving the Women's March"
All are welcome to participate in an informal discussion  hosted by the Women's History Project of Northwest Michigan on the Women's March on Washington, which took place on January 21 in Washington, D.C.  Several attendees, including local organizer Becky Beauchamp, will answer questions about their experience.
Attendance is encouraged for all those who participated and those who wished they could, and anyone who has ideas about the March, women, and our place in history.  The WHP Souper Sunday is an annual event for the public, featuring camaraderie, a casual and delicious soup luncheon, and a thought-provoking program.
Program will be Sunday, February 5th, from 12:30-2:30pm, in the McGuire Room of the Traverse Area District Library, 610 Woodmere Avenue. Your $5 donation gets you entrance, as well as a hearty lunch catered by Centre Street Café. To reserve your place, contact Sandy at 231-421-3343 or at sansep19@earthlink.net.