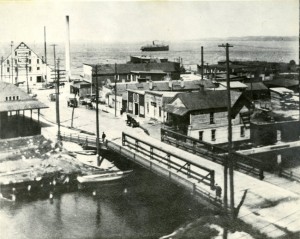 Walking Tours Ongoing from the Traverse Area Historical Society
You still have several opportunities to take in Traverse Area Historical Society's now-famous tours! All tours are $10 per person, and all funds raised go to support local non-profit historical activities.
Downtown Walking Tours start at 10:30 am each Saturday through October 14th, with the exception of and July 29th (Film Festival). Participants should meet outside Horizon Books 15 minutes before the start time. Tours last approximately 1-1/2 hours. For additional information, call (231) 995-0313. Reservations not necessary, but please call for groups of over 5 people.
Walking tours of Oakwood Cemetery will be available at 6:00 PM every Sunday thru October 15. These tours focus on the unique history of the area and the early pioneers who founded the community we know today. Geared towards an adult audience, the tours will last about 1 ½ hours. Participants are encouraged to wear shoes suitable for hiking over uneven terrain. They should meet on the sidewalk outside the cemetery near the Eighth Street entrance, approximately 15 minutes prior to start time. For additional information, call (231) 941-8440. Reservations not necessary, but please call for groups of over 5 people.
Also, continue to enjoy the "virtual walking tour"of Downtown Traverse City by our own Richard Fidler, courtesy of the Society.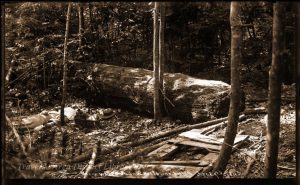 Old Mission Gazette features story on Julia Curtis
Stephen Lewis, author of Murder on Old Mission and Murder Undone was recently featured in a wonderful digital magazine, the Old Mission Gazette, the brain-child of lifelong OM resident Jane Johnson Boursaw.  
Your editors enjoy the history found at Old Mission Gazette, and always look forward to the next edition. Boursaw has published a number of interviews with longtime residents, histories researched by herself and others, and she often reports on current events of a historic nature.
In regards to Julia Curtis (whom we've covered before, thanks to Lewis), hers is a harrowing true story that makes a compelling novel at Lewis' deft pen. His works are for sale both at Amazon.com and Horizon Books locally.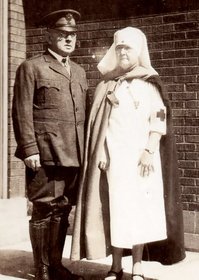 Benzie Area Historical Society & Museum continues World War I Exhibit, Events
The United States, after much debate,  entered WW1 in April 1917. The Benzie Area Historical Society has created a 2017 summer  exhibit at the museum, "Gone to the Colors,"  to mark the centennial of this event.   The exhibit focuses primarily on how Benzie County was affected,  on a number of the "local boys" who enlisted,  and  at "propaganda" in a variety of forms– popular music, posters, letters, etc. The exhibit runs through October 19; the Museum is open Tuesday – Sunday  1-5PM
In addition, BAHS is also sponsoring a number of WW1 commemorative  events honoring those who served in WW1:
(Tuesday, July 18) Crystal Lake East Cemetery, Frankfort
(Tuesday, July 25) Champion Hill Cemetery, Honor
(Thursday, August 10)  Lecture "It's Not Our War"