Downtown Traverse City Historic Walking Tours begin in August
Don't miss the Traverse Area Historical Society's newest offering, our Downtown Historic Walking Tours! The first tour will be offered on Saturday, August 6th, starting at 10:30am.  The tour will last approximately 90 minutes.  Please meet  in front of Horizon Bookstore, 243 East Front Street, 20 minutes before the start time. The cost is $10 cash or check; with all proceeds benefiting the Historical Society.  Reservations (at 995-0313) are appreciated but are not necessary.  Subsequent tours will be offered each Saturday of August.  Information on Fall tours will be available at a later date.
Interlochen Center for the Arts History at Benzie Museum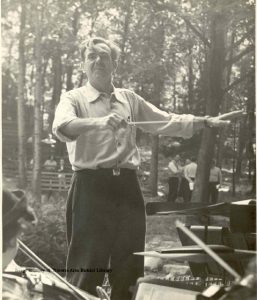 "Historic Photos and Stories from the Interlochen Center for the Arts" by John and Margaret Beery at 7pm on Thursday, August 11 at the Mills Community House. The Berrys will share the dreams and vision, through photos and stories, of Dr. Joseph Maddy, founder of Interlochen Center for the Arts and examine the stories and personalities of such recognizable Interlochen folk as Aaron Copland, John Philip Sousa and Percy Granger. Margaret is the managing director of tours, and John has been on the Interlochen summer staff for 33 years and acts as curator of the Greenleaf Instrument Collection.
Concert to Celebrate 100 Years of National Park Service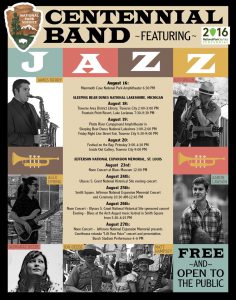 The National Park Service Centennial Band will be performing a concert to celebrate the 100th anniversary of the National Park Service on August 18 at 2:00 at the Traverse Area District Library, and at 7:00 at the Fountain Point Resort at Lake Leelanau. The band will perform songs related to National Parks around the nation. A family event, fun for all, so bring your kids, friends and neighbors! Click on the image (right) to see the full schedule.
Making Waves: Michigan's Boat-Building Industry, 1865-2000: Leelanau County Historical Society's "Literature on the Lakeshore" program with Scott M. Peters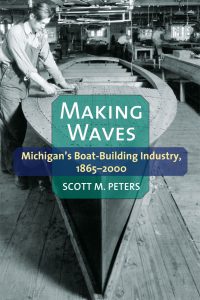 On Saturday, August 20th at 4pm, join your friends at the Leelanau Museum for a nautical adventure! In this 2016 Michigan Notable Book, Scott M. Peters, Curator of the Michigan Historical Musuem, explores the intriguing story of Michigan's Illustrious place in boat building that changed boating across the world.
At the Leelanau Historical Society Museum, 203 E Cedar St, Leland, MI 49654
WWII Veterans in Their Own Words: Leelanau County Historical Society's "Literature on the Lakeshore" program with Larry Martin
On Thursday, September 1st at 5pm, Larry Martin will present the memories of Edgar Harrel, a marine aboard the USS Indianapolis. On July 30th 1945 the USS Indianapolis was hit by several torpedoes from a Japanese submarine. She sank in 12 minutes in the deepest part of the Pacific Ocean. There were 1197 men aboard and about 300 died during the sinking, putting about 900 men into the ocean. Hear Edgar tell what it is like to be lost at sea for about 112 hours.
In addition Larry will have several tables of WWII memorabilia on display! At the Leelanau Historical Society Museum, 203 E Cedar St, Leland, MI 49654
The Comedy of Crystal Lake with Dr. Daniels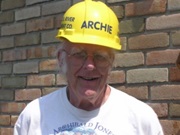 The National Park Service at Sleeping Bear Dunes National Lakeshore (National Lakeshore) will host a special presentation and book signing event on August 5, 2016 at the Philip A. Hart Visitor Center in Empire, MI with Stacy L. Daniels, author of the book "The Comedy of Crystal Lake". Dr. Daniels will present a program in the visitor center auditorium beginning at 10:00 a.m. followed by a book signing that will last until 1:00 p.m.
You might remember guest contributor to the GTJ and author Dr. Daniels. If you've missed his Archibald Jones impersonation in the past, now's your chance! Your Editors still considers Daniels' hefty tome to be well worth your time to read… what a story!
Dedication Service honors Dr. David Wilson Cousins, Union Veteran, Colored Infantry in Mayfield Township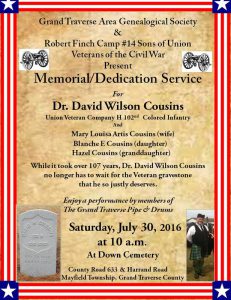 Although a bit late for this publication, Your Editors hope you will make the trek to Down Cemetery, to honor Dr. David Wilson Cousins, Union Veteran Company H 102nd Colored Infantry, and members of his family. Dr. Cousins was laid to rest 107 years to go, without the Veteran gravestone he justly deserves. Our good friends at the Grand Traverse Area Genealogical Society and Robert Finch Camp #14 Sons of Union Veterans of the Civil War have worked together to identify his resting place, and fund the erection of the grave marker.  This event took place on Saturday, July 30, 2016 at 10am, Down Cemetery, County Road 633 and Harrand, Mayfield Township, Grand Traverse County. You may have missed the unveiling, but it's never too late to honor our deserving veterans, and a cemetery is a pleasant place to enjoy a picnic with friends new and old.