A Murder in Eastport: An 1870 Family Story of Racial Profiling
By Norton Bretz, President of Eastport Historical Society
Sunday, April 9th, 1pm
This talk will examine a fascinating 1870 murder that echoes issues our country still deals with today.
On June 12, 1870, a black man named William Swan was walking along what is now US31 near near Eastport. William and his family had been living in the Charlevoix area for over five years, the only black residents of the county. He was was shot and killed by two Civil War veterans, for no apparent reason. The shooters would be acquitted.
Come hear Mr. Bretz, a descendant of these veterans, give a lively recounting of this event and its aftermath.
Norton Bretz is President of the Eastport Historical Society. He spent his career as a nuclear physicist at Princeton University. He is a Michigan native who grew up spending summers in Eastport.
Program is free and open to the public. Program will take place Sunday, April 9th, from 1-3pm, at the Traverse Area District Library, Children's Story Room, 610 Woodmere Ave.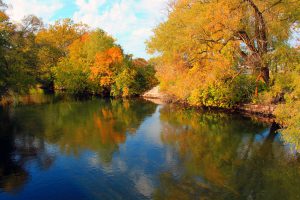 Stop by to discover what the Boardman River Nature Center (BRNC) has to offer! From 10:00-12:00pm, GTCD and the Michigan Agriculture Environmental Assistance Program (MAEAP) are holding a FREE domestic drinking water well screening. For more information, click here.
Visit us from 1:00pm-2:30pm to join our educator as we learn all about the Boardman River. We will work with our indoor stream table, hike along the Boardman, and create a fun craft to take home. Ideal for ages 4+. These Saturday events are free and open to the public.
When: Multiple Wednesdays – April 5th, April 12th, and April 19th, from 9:30am-12:00pm
Where: Various parklands throughout Grand Traverse County
Shortly after snowmelt is a great time of year to remove unwanted debris and miscellaneous items from our local parklands. In addition to cleaning up the parks, small scale park enhancement projects will take place. Contact us today to learn more about which parklands will be of focus this year, and what you can do to help!
Registration: RSVPs are required; contact Reb Ratliff at rratliff@gtcd.org or 231.941.0960×27, or Tom Vitale at tvitale@gtcd.org or 231.941.0960×19.