Oakwood Cemetery Tours
Love meeting new people? What about dead ones? Traverse Area Historical Society invites all those interested to meet some of our favorite deceased Traverse City residents! Colorful characters once roamed our streets, including William "Wild Bill" Germaine, known better for brawling in the street than his political doings, and  our first female doctor, Augusta Rosenthal Thompson, who pursued her education with such passion that her husband divorced her. This tour is a packed one-and-a-half hours, and never dull!
Oakwood cemetery tours begin on Sundays at 7:00pm, beginning on July 3rd. Participants should meet at the northwest corner of the cemetery at the intersection of Steele and 8th Street. It is best to park on Steele street. Cost is ten dollars per person, payment to be made by cash or check. All proceeds go to benefit the Traverse Area Historical Society. You may preregister by sending an email to contact@traversehistory.org (preferred) or phoning (231) 995-0313. Drop-ins accepted if numbers permit. Rain or shine.
"The Lumber History of Frankfort Harbor"
Join the Benzie Area Historical Society for a lecture on "The Lumber Industry of Frankfort Harbor," by Andy Bolander, at 7:00 pm on Thursday, July 14 at the Mills Community House. The lecture will focus on the development of Frankfort Harbor and the industries along its shores. Particular attention will be paid to the manner in which the building of the Soo Locks inspired a chain of investment by eastern capitalists in Benzie County that culminated with the creation of the Frankfort & South Eastern Railroad. Andy Bolander, a railroad and car ferry enthusiast and a volunteer at BAHS, has spent a year gathering photographs, maps, news clippings and county records information for this lecture.
Leelanau Historical Society, Exhibits and a New Gallery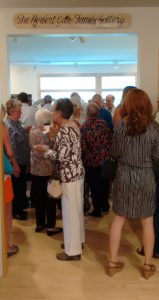 Leelanau Historical Society and Museum packed in the crowd at their recent dedication for the Norbert Gits Family Gallery and Bluestone Conference Room! LHS&M invites all interested in seeing their beautiful new space to come visit. Please check out their website for Museum hours.
Of particular interest to many is the new exhibit displayed in the Gits Family Gallery, titled "In Focus: Photography, History, Art," featuring the art of Keith Burnham and other area photographers from past to present. One of Your Editors has had the pleasure of viewing the exhibit, which features some of this publication's favorite photographers of old, Orson Peck and Edward Beebe. It is not to be missed!
If you would like your event featured in Grand Traverse Journal, please email details to gtjeditor@tadl.org