For the staff at A. Papano's Pizza of Kingsley, history is more than just a rehashing of the past; It is all about building community, according to Jeff Yacks, owner.
"The community of Kingsley has meant so much to us, and it's so underserved. They deserve more–to be served a great product–and they deserve great service. That should be an expectation."
So when A. Papano's crew leader Jeff Pearson began researching the history of the building occupied by the business at the corner of Brownson and Blair, he saw an opportunity to engage with the community on a more meaningful level.
"Initially, I didn't think this project would come to mean what it has. When Jeff asked to research the building we're in, I thought it was for a grade, a score, a plaque, but it turned into a lot more than that. I would say it was a humbling experience. We spoke with a lot of community members, the research we did, just hours of it. It turned into this huge, amazing, overwhelming thing."
The research project culminated in the unveiling of a display, now available for public viewing in the seating area of the restaurant at the Kingsley location. The display features the history of the building, tracing the previous owners and functions, as well as pointing out some of the unique parts of the building, left over from years of remodeling.
Downtown Kingsley is largely comprised of brick structures dating from the early 1900s, and over the years, doors were closed off, windows bricked up, and more. The staff are especially proud of uncovering the last bit of original tin ceiling in their building, which miraculously survived an early 1990s demolition project.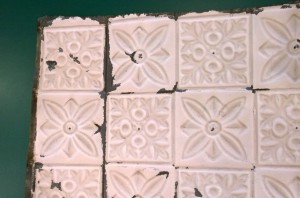 "Through the Kingsley Branch Library staff, I found out that the ceiling of Tony Beyer's grocery had been ripped out in the early 90s, and they supposed that all of it was gone. I then went and talked to our landlord, and he thought there might be some left. We (A.Papano's staff) searched and searched all 2000 square feet of the building, and found a 4 by 6 foot section. There was plumbing and insulation in the way, we had to get a ladder… and Jeff got metal shavings in his eye, so I sent him to get a tetanus shot… three hours later, we ended up with a piece of the tin ceiling!" The ceiling tile is now on display at the Kingsley Branch Library.
For their tireless efforts, the research team was awarded the Floyd Milton Webster Prize for History in June 2015. When asked about what made this research project worthwhile, Yacks pointed to the June 22nd award ceremony.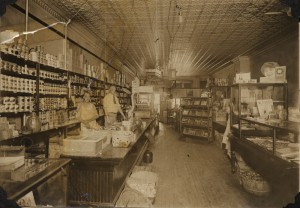 "When we got there, I was overwhelmed. All these community members, people I looked up to as local heroes, were sitting there, and I remember thinking we were out of our league and should just walk out. But then they called us up, and I was shocked; Mr. Webster was there, all 96 years of him, and at that moment not only did I feel like this project was so beyond what I expected, but that I was accepted into this legacy, and I knew I had to continue. That was the a-ha moment, where all this time spent, all this research, was all worthwhile. When someone like Mr. Webster shakes your hand… he looked at us as the future; There was almost a sense of blessing, a passing of the torch."
So what was the most difficult part of the project? "Early on, we were trying to find the initial land plotting, and I was going through all the libers at the governmental center, tracing all that history. We were trying to prove or disprove if Doctor Brownson (who operated Brownson Sanitarium in Kingsley at the turn of the 20th century) ever owned the land, but we never did find that link. That was a lot of Friday afternoons spent," explained Yacks.
The governmental center wasn't the only place the research team turned to for help. Yacks praises staff at both the Kingsley and Woodmere Branches at Traverse Area District Library for their assistance, even though he was leery to use those services at first.
"In my line of work, I am use to schedules, everything is fast-paced, minute-by-minute. Our employees have expectations on efficiency. When I started, I didn't really know how to work with the library employees. I felt like I was sucking up all their time. What I learned is that for librarians, time isn't measured in minutes, but in outcomes, and solutions. It was hard to ask for help, then take up an hour of time, and thinking that person should be doing something else. For me, the whole experience really embedded the library in the community."
Despite the significant amount of time spent on the project, Yacks stresses the value of engaging in a history research project like this, and what it has done for his business.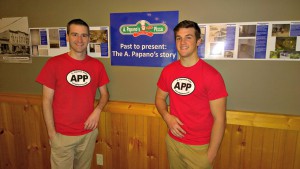 "Engaging in this project benefits both the business and my employees, which are really like family, and for the community. Our business was already aligning with the community in many ways, and it was perfect timing, for the business, staff and community to have a common tie."
"This project fits with my philosophy, that when we can establish relationships with our customers, it creates top-mind awareness. When customers see us at community events, look at our display, it leads them to thinking of us over our competitors. Because of something like this, we're establishing the emotional connections that build loyalty. Talking with community residents to accomplish this meant a lot of relationship building. It changed the course of our business in our community. We're embedded in our community now, more than any amount of marketing could do."
Amy Barritt is co-editor of Grand Traverse Journal.