Students frequently confront teachers of biology with a variety of organisms: snakes captured under porches, wild birds rescued and nurtured at home, preying mantises temporarily housed in glass jars, occasional pet hamsters brought to school in their wire cages, and—occasionally—creatures one doesn't see regularly.  That was the case when a boy lugged a large bucket of water into the classroom one September day.  His question was the kind I welcome the most: What are these?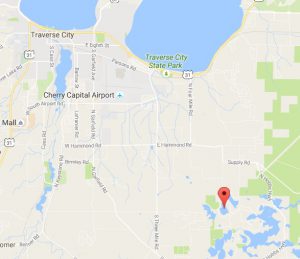 I looked inside the bucket, at first not seeing a thing as I focused on the bottom of the bucket.   Then I saw them, swimming in the water column, tens of white, almost transparent disks, each one the size of a penny, swimming—is that too strong a word?—keeping themselves from sinking to the bottom.  Astounded because I had never seen them before, I croaked out, "Do you know what you've found?  Freshwater jellyfish!  They're rare…where did you get them?   The boy, proud of his accomplishment, replied, High Lake.  High Lake!  High Lake had freshwater jellyfish! I wondered if I should report this finding to the University of Michigan.
Since that time much has been learned about freshwater jellyfish.  The source I had used concerning these organisms, Pennak's Freshwater Invertebrates of the United States (1953) was outdated even at the time my classroom adventure occurred.  The book emphasized how rare the animals were, having been found at only fifty locations throughout the country.  As I read about them today I get a different impression about their origin, frequency and distribution across the lower 48 states.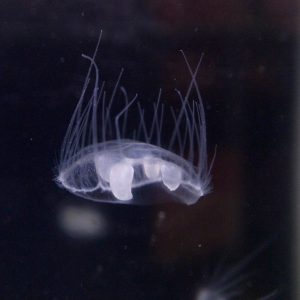 They are not native to North America, having gotten here from China most likely with shipments of tropical fish and aquarium plants.  Fifteen years ago High Lake was one of the earliest lakes affected by that introduction.  They are not rare:  freshwater jellyfish are found in bodies of water in almost all of the states east of the Mississippi River as well as many more out west.  Outside of the United States they are now found in North and South America, Australia, and New Zealand, almost always in temperate locations.  Alas, my excitement at finding rare fauna has cooled considerably.
Another invasive species!  I anxiously turned to Wikipedia to read about its effects on local ecosystems: What foul deeds is it performing on our freshwater lakes?  At present it is not clear what harm they are doing.  They do not seem to disrupt the major feeding relationships among the animals we care about, the fish, birds, and mammals.  Certainly they feed upon near-microscopic members of the zooplankton–the animals that feed small fish–and occasionally upon minnows themselves, but their presence seems benign—at least so far.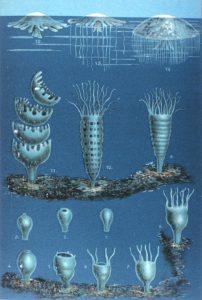 The fluttering disks I saw in the bucket represented the medusa stage of the jellyfish, the sexual stage in the life cycle, the stage that produces eggs and sperms.  However, the creature usually prefers the ease of asexual reproduction—a statement supported by the observation that all of the medusae in a lake might be male or else female, never a mixture of the two genders.
Students of Greek mythology might remember the word "medusa", a monster with a hideous female face surrounded by venomous snakes, its visage so terrible that humans would be turned to stone upon beholding it.  The jellyfish medusa, thankfully, does not possess that power.  It is named after the many tentacles that hang from its margin, a reminder of the monster's snakes.  Indeed, like the snakes,  it does possess venom—in tiny darts called "nematocysts"—but these are not robust enough to penetrate our skin.  They cannot "sting" us like their relatives, the Portuguese Man of War.
How does the jellyfish reproduce without sex?  It spends much of its life under water in the form of a polyp, a tiny but not microscopic form without tentacles that pinches off the little caps that become the medusa.  Sometimes it does not even bother with that, simply budding off a new polyp from its side.  Boaters and swimmers may not even see medusae in the water for years at a time.  The animal produces them when he/she is ready.
That bucket of water from High Lake did open my eyes to something I did not know existed, even if it proved not to be the rarity I had imagined.  It made me aware of another living form I had never heard of.  Does stimulating my curiosity add to the value of an organism?  If so, I have come to value the freshwater jellyfish.
Richard Fidler is co-editor of the Grand Traverse Journal.