Hannah St. Mary's has a story no one besides a few select people know. This is that story.
It all started when the first settlers came to Hannah. Around 1850 Perry Hannah, A.T. Lay, and James Morgan came and bought a sawmill along the Boardman River and started a business. Then in 1857 Congress passed a grant allowing funds to build a railroad in Michigan from Grand Rapids to Traverse Bay. In 1862, George Nickerson and his family came and urged other families to join them.  In 1872, with the railroad finally finished, settlers came from all over for the cheap land and the plentiful amount of timber.
Later, after the railroad was built, they decided that they needed a church, building and completing it in 1885.  However, the church did not have any altar fixtures in it until around 1896 when they bought their altar. It cost $81.84.  It probably does not seem like much to us, but back then it was a large sum of money.
As always, horrible things seem to constantly plague good people; this church was no exception. In the late 1800s or early 1900s robbers on horseback stole everything from their altar.  That, ladies and gentlemen, is where this story begins…
This is the account told to me by Eugene and Jim Johnson. In 1982 on Easter Sunday Eugene Johnson took his eight-year-old son Jim fishing on Fish Lake.  It was a slightly chilly, foggy day but you could still fish. They also took Jims' metal detector to fiddle around with later.
At long last, after continually failing to tempt the fish to bite, they pulled out the metal detector. They started in the parking lot, just finding small things such as pennies and other small coins. But as time passed, they wandered on down into the more swampy area of the woods past the campground, and over a bank when suddenly the metal detector was almost off the scale.
When they looked down they saw something that resembled metal. They set the detector down and gently started digging. Soon they discovered that the first piece of metal was the base of a tarnished candlestick. They kept digging as the fog danced around them.  Soon Jim found a potato sack; When it finally left its grave, it was revealed that it was chock-full of more candlesticks and vessels.  As they dug even deeper, they started uncovering more candelabras–and discovered the piece that explained what all the others were, a large cross.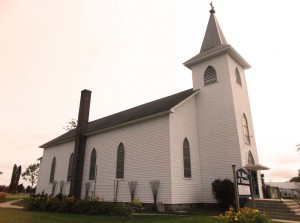 Eugene, once having been an altar boy, recognized the cross as one that might grace an altar. The question was where had these treasures come from? Eugene had never heard of a robbery of a church in the area. But they couldn't just leave these gorgeous treasures alone could they?
They packed the pieces off and went home to ponder their questions in a safer setting. When they arrived home and explained the situation to Eugene's wife, Vicky, she suggested, "Why don't you take it to our pastor, Father Murphy?"
They did just that. After explaining their predicament once again, Father Murphy agreed that the artifacts were in fact like the ones put on a Catholic Church altar. However, while the tarnished silver artifacts were found, none of the gold artifacts that would grace an altar were found.
Father Murphy suggested that he take the items in question and in the meantime he would look through old church files and see if he could find out the story behind the artifacts.
Later that day or the next, Father Murphy called up Eugene and said, "Have I got a story for you." He then proceeded to tell them that in the late 1800s or early 1900s the Hannah St. Mary's Church had been robbed on horseback. The number of bandits and who they were are an unsolved mystery to this day.
Pretty amazing story huh? Sadly the story never reached the news. The artifacts were put on display in the church rectory; Diane Gray, a Church secretary,  remembers seeing some tarnished altar pieces in the office.  However, today they are probably stuck in some dusty boxes, shoved into an even dustier basement where their history will never see the light.
I am sorry to say that though many questions have been asked, no one can remember this story and that has made it hard to gather facts, though I am ecstatic that, due to research questions, more people know this fascinating story. I have spent several hours at the Traverse Area District Library looking at newspapers but have not found any mention of the robbery of any churches except for an attempted robbery of the St. Francis church in 1905.  I did discover that the early history of the town was filled with robberies and murders. I spent quite a bit of time talking to members of the church whose families belonged to the church for a long time such as Margret Lewis, Messrs. Ray and Jay Weber and former parish secretaries such as Diane Gray and Terry Javin. I also spoke with Sue Zenner the daughter of Julia Harrand who wrote a book on the history of Hannah St. Mary, and interviewed Eugene and Jim Johnson who were the ones who found the treasure.
Hannah Carr is a student at Kingsley Area Schools, who is passionate about writing and research, although she prefers writing mysteries to nonfiction. Carr was one of the winners of the 2014 Floyd Milton Webster Prize for History (Kingsley), Young Adults, for this article. She plans to be responsible with her Prize winnings, and the Editors look forward to her entry next year.