Contributor Richard Leary and his wife, Eleanor Riehl Leary, are summer residents of Lake Ann.
Addison and Ann Wheelock, my wife's great-great grandparents, were the first European settlers in the Lake Ann area. The lake, Ann Lake, was named for Ann Wheelock. While Eleanor was doing family history research, I began researching the history of the village of Lake Ann.
The village has a long and fascinating history, extending from its logging days in the 1860s into the early 20th century. At the turn of the century – 19th to 20th – Lake Ann was a tourist destination, with daily trains bringing people from Traverse City and Manistee. An elegant hotel, the Douglas, stood just a short walk from the fine train depot and another hotel, the Lake Hotel, was just down the road.
Lake Ann boasted (if that is the correct term) of a half-dozen or more saloons, good card games and, according to rumors, several brothels.
Among Lake Ann's more noted historical events were three major fires, each of which nearly destroyed the town. Lake Ann survived and today is a busy, growing community.
But I get ahead of myself.
During the spring and summer of 1862, three groups of settlers arrived in the area that later became Almira Township.  They homesteaded different places and later obtained land grants for their land.
Addison (28) and Ann (28) Wheelock, with their first two children, Ebenezer (6) and Mary (3) settled on the north shore of Ann Lake. Addison named the lake for his wife. The Wheelocks came from Vermont.
Andrew (32) and Almira (30) Burrell arrived about the same time. They settled on the north side of Sancrainte Creek. An area northwest of Ann Lake was informally known as "Sancrainte Hill." This is consistent with Andrew Burrell's land grant. The township was later named for Almira Burrell. They apparently only farmed that area briefly as they were listed in the 1880 census in Monroe County in southern Michigan. The Burrells came New York.
Also arriving during 1862 were two brothers from Canada. Alexander (Alex or Alec) and John (30) Heather settled on the northeast end of what is now called Stevens Lake. Alexander Heather obtained a land grant for a quarter section of land in section 3 and a quarter-quarter section in section 14, northeast of Ann Lake. They farmed the land on the shore of Stevens Lake for several years before selling. Only John was listed on the 1870 census. We were unable to find either John or Alexander Heather listed anywhere in the 1880 U.S. census. They may have returned to Canada.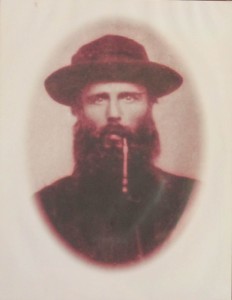 Addison P. Wheelock and his wife Ann were among the first settlers in Benzie County, Michigan, and the first in the Lake Ann area. Soon after they arrived from Vermont in 1862, Addison acquired extensive land on the north shore of Ann Lake. Eventually he owned all the land now occupied by the village of Lake Ann.
It is unknown exactly where the Wheelocks lived. Their home was probably on or very near the new Almira Township Park. As reported in the Grand Traverse Herald on 28 June 1883, Ann Wheelock hosted a Fourth of July party on her property:
There will be a Fourth of July celebration held in the woods on Mrs. Wheelock's farm, near Lake Ann. L. Palmer will have his swing on the grounds. J. J. Gray and R. Gane will have a stand where refreshments will be sold and there will be boats furnished for those who like excursions on the water. The pleasures of the day will end with an oyster supper in the evening at Mr. Hathaways.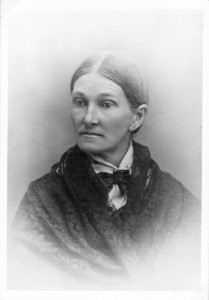 Addison Wheelock was among the founders of Almira Township and the village which later became Lake Ann. The lake was named for his wife, Ann McBride Wheelock. He was active in local politics, was the first sheriff of Benzie County and served on many local committees.
Addison acquired much land, most of it land grants from the U.S. government through the General Land Office (GLO). A few pieces of land were purchased from the Auditor General of Michigan in tax sales. By 1872, Addison Wheelock owned nearly 450 acres in Benzie County. On the 1870 census he valued his property at $10,000, far more than anyone else in the area.
After arriving in what is now Lake Ann, Addison and Ann had 5 more children:
1.  Ebenezer T.           – b. Apr. 20, 1856,  Vermont,
2.  Mary Ann              – b. Sept. 24, 1858, Vermont,
3.  Willie A.                – b. Feb. 14, 1863, Michigan,
4.  Hector C.               – b. Apr. 18, 1865, Michigan,
5.  John P.                   – b. Mar. 21, 1868, Michigan,
6.  Julia E.                   – b. Dec. 23, 1869, Michigan,
7.  Amy A.                  – b. Jan. 28, 1876, Michigan,
Sometime during the summer of 1883, Addison P. Wheelock left this area, leaving behind his wife and children. Vague rumors of distant destinations have proven fruitless. In Ann Wheelock's estate papers, Addison's address is listed as Bear Lake. This misinformation was probably given by the eldest son, William.  The search, now more than a decade old, continues.
The Leary's are volunteers at the Almira Historical Society Museum, whose holdings provided some information and images for this article. Please visit the Museum at 19440 Maple Street, Lake Ann, for further information on the history of Almira Township.