In this month's "Celebrate the People," we celebrate the long memory of Kathleen "Katy" (Adams) Hedden née Webster, a life-long Kingsley resident. Born in Kingsley in 1936, she lived on Fenton Street during her formative years until after her own children had grown. Her uncle, Floyd Webster, has been the Kingsley historian since the 1950s, and her attention to detail in this interview reflects a family love for Kingsley history. She continues to tell stories about Kingsley people and businesses, although she has joined the ranks of the 'snowbirds'. See you in the summer, Katy!
Profuse thanks goes out to interviewer Connie Newell and editor Pete Newell. Without their dogged persistence, we likely would not have this interview to enjoy today! As always, Grand Traverse Journal is keen on publishing the stories of people that make up our communities, so please, take the time this New Year to get your stories down on paper for future generations, and submit them to the Journal!
Interview with KATHLEEN HEDDEN née WEBSTER
by Connie Newell
edited by Pete Newell and Kathleen Hedden
29 October 2014
C: What were your parents names?
K: My mother's name was Claribel Wales, the oldest of 6 children born to George and Ina Wales, in 1916.  They lived on Old Mission Peninsula. My dad was born in Alma, Michigan in 1908, his parents were Walter and Martha Webster . His name was Carl, he had 2 sisters and a brother.
C: Were there doctors in town?
K: The only village doctor when I was a child was J. J. Brownson.  My grandmother Martha Webster, a mid-wife worked with him. He was a horse and buggy doctor.
C: How did they come to live in Kingsley?
K: My dad and his parents moved here when he was a child, as did my mother and her family. My Webster grandparents lived on Blair Street in the house where Diane and Dan Walton  live. My mother's parents lived on a farm two miles east of Kingsley where Mom spent most of her childhood. She and her 5 siblings walked to the old  Sparling School  which was located  on Wood Road, it was a K through 8 school. I don't know anything about my grandparent's education. When my mother advanced to the ninth grade, she had to transfer to the high  School in Kingsley  . Of course there was no bus service,  she walked 2 ½ miles to and from Kingsley every day. As the roads were not plowed in the winter , she boarded with a family in Kingsley for the winter months. My mother was 19 years old, had one year of college, and worked as a bookkeeper at Kingsley Co-op when she and  my Dad were married.  The old Sparling School now sits on Fenton Street in Kingsley on the back of the Earl Haycraft property.
K: During the logging days, the lumbering companies hauled logs to the top of the high roll-away, located near Buckley on the Manistee River. There, logs would be rolled into the river and floated  down to the mill. My mother-in-law and father-in-law were Sam and Joy Adams. One summer Sam Adams, and Frank Kolarovic, (his son, Jim, lives across from the post office) were part of a crew  hired to work  the river finding dead heads, (sunken logs that had hit snags), freeing them and floating them down river to the mill. My mother-in-law, Joy, was hired to cook for the crew in a little shack built on the raft for shelter. It was too dangerous for my future husband, Larry, (her two year old son), to be allowed to run free and get in the crew's way or venture too close to the edge of the raft that had no railing, so he was tethered with a rope and they spent most of that summer on the Manistee.
C: Where did they get married?
K:   I think my parents were married  in Traverse City by a Justice of The Peace. An interesting fact involved the old Kingsley telephone office. All were party line phones and had to be manually connected to anyone not within a close geographical area, so the telephone operator heard everything on the phone lines to and from the 500 or so people living in the Kingsley area. My dad went to Traverse City to get the marriage license, but he couldn't remember my grandma's maiden name and it had to be on the license. He called through the Kingsley Telephone Office to talk with my mother and asked, "What is your mother's maiden name?" Before he got back to Kingsley everyone knew that Carl and Claribel were getting married and he had gotten a marriage license that day.
C: What did your father do?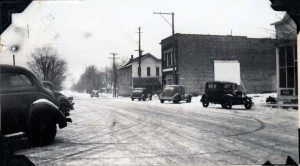 K: Most of his life, he painted and did wallpapering. My mom  didn't work outside the home until I was old enough to baby sit myself. She took a job as cashier at the Kingsley IGA store which is now the pizza place  kitty corner from the Post Office. After my parents married, they moved into a little apartment behind the tavern that I think was owned by Bean Shaftee, brother of Rosie Hooper,  Joe Hooper's mother.  The tavern was located where the Subway sandwich now stands. Later  Bean had a furniture store there.  After the furniture store, it became a series of gas stations, first a Pure Station, and later a Shell Station. After the gas stations, it was purchased and became the Dairy D soft ice cream shop owned by Cal and Phyllis Kroupa. I worked there one summer when it was owned by Cal and Phyllis . It was later sold to Keith and Pauline Aeschliman.  After that it was owned by the  Gomez family and Phil had his barber shop in the room on the north end of the building.
I was maybe a year or two years old when my folks moved to the house across from the Methodist Church. In my early childhood, we had an outdoor toilet and used the pages of catalogs for toilet paper.  I think that was pretty standard back in the '30s.  Those colored pages, were heck. My great grandma Keffer had a "two holer."She had taken an old fur coat, cut a hole in it, put it on the seat, so you wouldn't have to sit on that cold piece of wood in the winter time. It was a fur lined toilet seat. How is that for comfort? We lived there on Blair Street until I was about 5 years old when my folks built a house on Fenton Street.
After I married, my folks bought land on the Boardman River and built a new house there. My husband, Larry, and I bought the Fenton Street house from them. I lived there from the time I was a small child until after our children were grown .  Larry and I bought the Floyd Adams farm on Blackman Road and  built our house overlooking "Adams Pond" . Kingsley hardly resembles today what it was like as I was growing up, except for some of the old brick buildings in downtown Kingsley. In a town the size of Kingsley, everybody knew everybody and when someone passed away I remember a lady who went house to house,  Mrs. Marion Manigold, asking for donations for funeral flowers for the deceased.  People just expected to help. It was part of our lives.
C: What was your first husband's name?
K: Larry Adams. Larry and I were engaged to be married just before I started my senior year of high school. He gave me a ring on my birthday in August and we were married in July of the following year. There were 26 students in my senior year of high school . A couple of boys dropped out at the end of the first  semester joining the Marines, leaving only 24 to graduate.  Four of the graduates  went to college, continuing education wasn't any big thing then.
C: How long were you married to Larry?
K: 45 years. He died of cancer that he had battled for sixteen years.
C: When you were young, what was there to do in Kingsley? Were there theaters?
K: There were free shows every Saturday night in the summer. When I was a teenager, movies were held next to where The Rock teen center is today.  Previous to that, and still visible, a big white movie screen was painted on the south wall of Kingsley Automotive that was Baldie's (Cleland) tavern at that time.  There were wooden benches for seating where the fitness center stands today. Farmers would come into town Saturday nights, get groceries, bring their families, and stay for a free show. The village merchants  stayed open and they financed  the rental of the movies.  Ken Mox opened a hardware store where the fitness center is today, after the movies were moved from Baldie's to the lot south and east of there. Next door to that Wayne Lewis opened a barbershop, which later became a beauty shop.
K: I did a lot of baby sitting for Henry Mox, who, today, is remodeling the house in which he was raised, on the corner of Fenton and Brownson Streets.  His dad, Ken, owned the hardware store in Kingsley and his mother, Mildred, went to the store every afternoon to do the bookwork while I took care of Henry. As soon as I got out of school, I would go to their house. While I took care of Henry, I did dishes, vacuumed the floors, and did errands for 25 cents per hour. There was always a sink full of dirty dishes. I took care of Henry for several years. A few years later Henry's brother, Mark was born, and I took care of him too, when he and his mother came home from the hospital. I did a lot of babysitting during my high school years. I was the last female paper carrier for The Grand Rapids Herald newspaper. I delivered papers from when I was 12 or 13 until I graduated from high school. I don't remember how much I earned, but the paper cost 20 cents a week for delivery.  I can remember one person who gave me a tip every Saturday, which was collection day. He always gave me a nickel tip.
K: I also sat for Claude and Mildred Smith who lived in the upstairs portion of the Smith funeral home.  I was always a little uncomfortable, knowing there was a body or two downstairs. Shenbelle, the oldest of the children liked to greet visitors at the shared entry door of the apartment and funeral home. One of the regular visitors was the Traverse City Record Eagle paper carrier, Larry Adams.  He loved to tell the story about going there to leave the paper and little Shenbelle would greet him at the door and say, "Would you like to come in and see the body?" He never did.
K: There was a new nursing school in Traverse City at Northwestern Community College. I decided that I wanted to enter the program. I had not taken chemistry in school, so before school started in the fall, I went to see Joe Bellinger, the superintendent of Kingsley Schools, (then known as Paradise Township Unit Schools), and told him that since they had the nursing  program beginning in Traverse, I would like to go for an RN, but I had not taken chemistry in high school, and regretted not having taken it.  I wanted to come back to school every day and take chemistry with the high school students.  I was accepted back to school and took the class.  Announcements were made over the P.A. every day.  One morning during class, the announcement came, "Katy Adams, would you come to the office when class is over?"  I was so embarrassed in front of these kids, I was  28 years old then with a bunch of kids who were 17 or 18 and I was getting called to the office. I went to the office right after class.
Mr. Bellinger said, "I've looked over your school records, and I see that you've taken bookkeeping, typing, and know shorthand. They all pertain to secretarial work, and my secretary is leaving. I would like to offer you the job."
I was flabbergasted. I had no idea prior, to why I was called to the office. I told him, "I will talk this over with my husband and let you know, but if I take the job, I want you to know that I am two months pregnant."
He said, "Well if you give me your word that you will not quit as soon as your baby is born, that won't make any difference to me. But, I don't want you to learn everything and then leave me after a few months, I would rather start training someone else."
I talked with my husband, Larry. He didn't have any problem with the job offer. So I canceled my thoughts of nursing. I kind of weighed it, because I would have to go to college for a few years to be an RN and would be driving every day to classes, and have extra expenses. To have a  job at school, I would just walk a block to work and would always be home weekends with my husband and children. My hours wouldn't be much longer than my children's school hours. It seemed that was the way to go. So, when I accepted the job, he said, "Now you will really stay after you baby is born." I said that I would. I stayed for 32 years.
C: What did they pay to start?
K: I started out at $3000 a year which was OK back then.
C: What did you wind up making? Did you get insurance and a pension?
K: Yes. When I left the school position, I was getting over $16 per hour. I knew, initially, that my job entailed almost everything.  I did all of the general office work, helping out with secretarial duties for both elementary and secondary principals, as well as the superintendent, all of the bookkeeping for the district, the hot lunch account, the check writing, the payroll, and whatever else popped up. At that time, Larry was working for Schall's Bread Company in Traverse City. He had a route going store to store from Traverse City to Elk Rapids delivering bread, rolls, and other baked goods.
C: Did Larry paint houses?
K: My husband never painted. My father painted.  Grandpa Webster, my dad's father, painted for years, but he ended up retiring from Parts Manufacturing  plant in Traverse City.  My dad had various jobs when he was a young man.  He cooked in the C.C. camps and later was a cook on an iron ore ship on the great lakes. My son has two degrees from Ferris State University and worked as a personnel director for United Technologies and later as business manager for Thomas and Betts, both in Boyne City. He tired of that and he now has a successful painting business and has several people working for him.  I think painting is in the Webster blood.
C: What are your kid's names?
K: My oldest daughter, is Lori Lynn Norton, the wife of a minister. Lori and Terry have two children. He's had four churches since they have been married.
C: Your next child down?
K: My second child is Lindsey Webster Adams, who with his wife Shannon have 2 sons.  My youngest is Kara Ann Schmidt, an accountant married to Damon, a mechanical engineer.
C: Did you go to church here in town?
K: I have been a member of Kingsley Baptist Church for 50 years.  After Larry died, I married Ken Hedden.  Pastor Summerfield married us in the old Baptist Church on Blair Street.  During the ceremony he said, "I always counsel couples before I marry them, but between Katy and Ken they have been married 95 years, I didn't think they need counseling."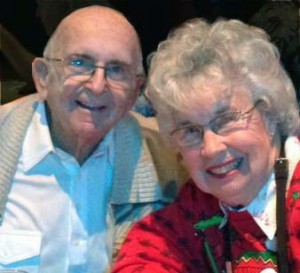 C: Did you like Ken when you met him?
K: It was a blind date.  Ken is a very nice person. I had met him once a couple of years prior  but really didn' t remember him.  He had lost his wife to cancer a couple months before I lost my husband.  One evening, a mutual friend said to me, "Shall we ask Ken if he would like to go out to dinner with us?"  I said "Yes."  So, the four of us went out to dinner and afterward went back to their house and played cards.
Ken soon asked, "Can I pick you up tomorrow night?"
I said, "I don't think so."
Ken asked, "Well how about the next night?"
"I'm pretty busy."
Ken said, "Well, how about a movie this weekend?"
I finally said, "Alright. We can go out to a movie this weekend."
C: I bet you thought that you would never get married again.
K: I thought, "Well I'm  63. I don't want to spend the rest of my life by myself."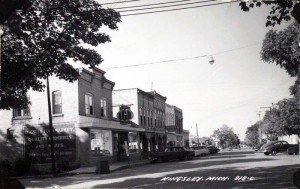 C: Were there many gas stations?
K: Yes. There were several gas stations. Bob Adcock's building on the south side was Davis' Gas Station. Another one sat where John Sedlacek's shop is on the SW corner of M113 and Brownson. Straight across M113 was the Standard Station that belonged to Mickey Mox. Across Brownson to the east was the Pure/Shell Station. I say that because it was first Pure then Shell. What is now the vacant lot west on the SE corner of Cottage and M113, there was a grocery/gas station.  Some of the owners that I recall over the years were Harold Vogue, Chet Berdinski, and Durwin Mackey.  On the next block, where the ice cream shop is now, SE corner of Clark and M113, was an Old Dutch gas station owned by Al Hoeflin.
There were several grocery stores on the  main street (Brownson) in Kingsley.  The first owner that I remember was Ed Mox, then later bought out by Bob Lint and Don Westrate.  The pizza place is where the IGA store used to be, and right next to that was Clover Leaf Store what you might call a dime store belonging to Frook's. It was later owned by Louie Kyselka. Next door  was Sieffert's Grocery Store, which was operated by Thelma Sieffert and was later converted to the Kingsley Bank. Next to that was the drug store operated by Lane (Doc) Fenton. You could go right from the grocery store straight through to the drug store. Nixon's was another grocery store but when it  burned, Ray and Agnes put in a Gamble's store . The next building belonged to Frank Baldwin. He had a barber shop in the front and in the back was a pool hall with always a card game going on.  Grandpa Webster spent a lot of time playing cards there which really irritated my grandmother.
K: I lived on Fenton Street for about 40 years–from when I was a small child  until my children graduated from high school. Floyd Webster lived right where he lives now. When he came back from the army, that was his and Melvina's first house. He, my parents, and grandpa built it.
C: You said that your kids went kindergarten through twelfth grade in the local school?
K: Yes. All grades were located in one building.
C: How did your mother get clothes for you?
K: She made them when I was a child. I don't know how old I was before she got a washing machine. Before that she used a scrubbing board.
C: Did you mind being an only child?
K: I can remember them asking me, "Wouldn't you like to have a little brother or sister?" I  always gave them the same answer, "No."
C: Did you as a teenager do the sleep over thing?
K: I didn't really do much of that. One thing I enjoyed, growing up, was roller skating.  For several years, while I was in junior high and high school, a company would come once a week with roller skates. The school would open up the gym, students could come there and rent the skates, have the music going and roller skate. They would have special things to do. The girls would line up and the boys would line up, and you would pair up according to the position in each line, much like a reel. Another thing we did as kids—the pond on our street, it's still there behind the Westrate house, that's what we called "The Little Pond."  It always froze over early in the winter time because it was shallow. We would meet there every night and bring our shovels, clean it off, skate, and get warm by a bonfire . As the winter progressed, what we called "The Big Pond" would freeze, and our gathering would go there, what was a lot bigger than it is now.
K: By the time my kids were old enough to go ice skating that area of Fenton Street was being built up, so the village built a rink at Brownson Park, and it was well lit.  The town kids would walk there and skate afternoons and evenings.  Broomball was popular, especially with the young boys.
C: Who were the wealthy people in town?
K: I think Frank Saylor was the only one that I would have called wealthy.  I remember that  Al Hoeflin, who had the Old Dutch gas station, had the first television in town. My dad had the second one and Rex Henschell had the third.  You knew who had TV's because of the tall antennas that were necessary to bring in the only 2 channels, Green Bay and Milwaukee, were available.  I was on the village council quite a few years. Not many people showed up to the meetings.