Newly Formed Leelanau County Historic Preservation Society Granted 501(c)3 Status, Works to Save Leelanau Poor Farm Barn
From email correspondence:
"Our newly formed Leelanau County Historic Preservation Society (LCHPS) has been granted a nonprofit 501(c) (3) status. Board Officer/Directors are: Steve Stier, President; Barbara Siepker, Vice-President; Laurel Jeris, Secretary; Frank Siepker, Treasurer.
We are to now ready to accept donations and pledges. This effort will further assure the County Commissioners that we are able to take on and complete the barn rehabilitation project. We have attached a form you may download, for you to let us know what financial support we can count on.
We are ready to present a partnership proposal to the Leelanau County Board of Commissioners at their August 8th 9 am Executive Committee meeting. Steve Stier has gathered estimates for barn rehabilitation work and we will report on these numbers. The needed work on the barn can be done in planned stages as funding becomes available.
We look forward to hearing from you. We will report back to you soon on our progress. We are confident that a partnership with the County can be accomplished, thereby saving and rehabilitating the Poor Farm Barn. We appreciate your being a part of this partnership and will soon be notifying you of additional areas of volunteer assistance needed."
Download a Donation form HERE
Read more about the rescue effort in the Detroit Free Press
Traverse Area Historical Society Continues Tours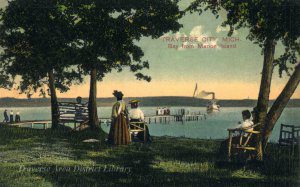 Last call for last summer hurrahs! Traverse Area Historical Society is wrapping up their tour season in mid-October, but take advantage of the good weather (while you can!):
Downtown Walking Tours start at 10:30 am on each Saturday through October 14th. Participants should meet outside Horizon Books 15 minutes before the start time. Tours last approximately 1-1/2 hours. For additional information, call (231) 995-0313. Reservations not necessary, but please call for groups of over 5 people.
Walking tours of Oakwood Cemetery, starting on Sunday, June 18th, will be available at 6:00 PM every Sunday thru October 15. These tours focus on the unique history of the area and the early pioneers who founded the community we know today. Geared towards an adult audience, the tours will last about 1 ½ hours. Participants are encouraged to wear shoes suitable for hiking over uneven terrain. They should meet on the sidewalk outside the cemetery near the Eighth Street entrance, approximately 15 minutes prior to start time. For additional information, call (231) 941-8440. Reservations not necessary, but please call for groups of over 5 people.
Leelanau Historical Society Celebrates its 60th Year!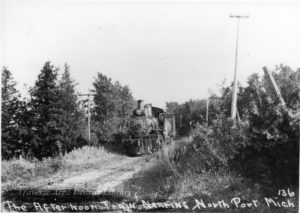 From their website: "The Leelanau Historical Society was launched in 1957 by a group of residents dedicated to collecting and preserving Leelanau's history. Leland, first established in 1853 and later the county seat, seemed the natural location for the Society. When the old county jail became available in 1959, the museum found its first home. Through generous donations and grants, a new museum was built in 1985 and expanded in 2005 and 2015.
Today, the collections and archives contain more than 14,000 items. Visitors to the museum learn about Leelanau life and maritime history from exhibits, educational programs and publications. Recipient of the 2014 State History Award for Outstanding Local Society, LHS continues to collect, document and preserve items relating to Leelanau history."
Congrats to one of our favorite institutions! Check out their new website and awesome events (including a day trip to the Manitou Islands in early September), http://www.leelanauhistory.org/
Monthly Meeting of the Grand Traverse Genealogical Society on Using Court Records
The September Meeting will be held Thursday September 21st at 1:00pm at the Church of Jesus Christ of Latter Day Saints, 3746 Veterans Drive, Traverse City. The guest speakers will be  Jessica Harden from the State of Michigan Archives. She will speak on "Using Court Records in Genealogical Research" A number of records are kept in the county courthouse because this was the place of business. While the legalese is not the most pleasant reading, probate and court records document the lives of our ancestors. Court records include information about adoption, debt, divorce, naturalization, lawsuits, guardianships and appointments. Probate records are records related to the death of ancestor and the distribution of their estate. These records often include wills, inventories, accounts, bonds, etc.