by Joshua G. Cohen, Michael A. Kost, Bradford S. Slaughter, and Dennis A. Albert, published by The Michigan State University Press, 2015
By Richard Fidler
Naturalists get excited whenever a new book appears that waters their interests: For me, this volume does exactly that—it fills a gap in knowledge I have long wanted filled, the natural communities of Michigan.  A natural community, according to this field guide, is defined as "a natural assemblage of interacting plants, animals, and other organisms that repeatedly occurs under the same environmental conditions across the landscape and is predominantly structured by natural processes rather than modern anthropogenic disturbances."  Examples help to clarify the academic language: a Marsh describes a group of natural communities; a Dry Northern Michigan Forest is commonly found where we live, wherever soils are dry and well-drained; Open Dunes, commonly found along the lakeshore, is a community that features few tall woody plants.  I have always been sloppy in applying terms to natural communities, often loosely referring to "habitats" or "ecosystems."  Now I know better.
It is important to note that the communities described in the book do not include agricultural land, whether in cultivation or abandoned relatively recently.  It does not include any land that has been disturbed by humans—a roadside ditch cannot be classified as a sort of marsh or swamp.  Because so much land has been cultivated and developed during the period of white settlement over the past two centuries, many natural communities are imperiled, their existence threatened by planned interventions that do not always respect natural places.  Conveniently, this field guide indicates which communities are most endangered.
Each natural community is described by its soils and geology, its hydrology (how water moves), its distribution, and by the plants that live there.  A general map of Michigan indicates where they are to be found—and, even better, specific locations are given to those who would care to pay visits.  Now, with the book informing where to go, I must get to Drummond Island to see the alvar natural community, the community that occupies cracks on bare limestone rock.   Existing in only a few places on Earth, it might be compared to an endangered community in remote Africa.  Lacking the wherewithal to get to that place, my safari will begin a hundred and forty miles from here, on Drummond.  Exotic travels can begin close to home!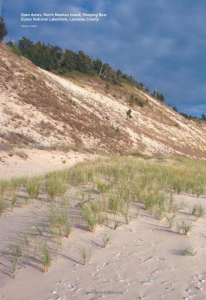 The Field Guide, it must be said, will be most useful to naturalists with a background in plant identification and with a knowledge of terms that relate to natural communities.  Commendably, it does have a glossary with terms defined gracefully in a language all can understand.  Still, it would be a good idea for explorers to latch onto a naturalist for a guide.  I do that whenever I can, even though I am someone frequently latched onto.
Keeping in mind Traverse City is a thoroughly disturbed landscape, still, let us look about for remnants of its natural past.  In fact, it is comprised of several recognized communities, among them, the Mesic Northern Forest (found around the hills near the Commons), the Dry Northern Forest (most of the city proper), the Rich Conifer Swamp (mostly around Kids Creek); and the Sand and Gravel Beach (by the Bay shore).   
Great beech trees of the Mesic Northern Forest grow on the hilly moraines above the former State Hospital grounds, on Madison street, and at Hickory Hills.  They predate white settlement by many years, but are now doomed by Beech Scale disease, an affliction that should destroy them within the next ten years.  Ashton Park on the West side of town presents a similar array of massive hardwoods.
Traverse City was mostly Dry Northern Forest, but the bulk of its giant white and red pines were cut down in the nineteenth century.  However, large white oaks survived the onslaught of loggers' axes and survive in neighborhoods to this day. 
The street names Cedar and Spruce point to the trees that lived along Kids Creek (formerly called Mill Creek and Asylum Creek).  The land survey of 1851 tells us exactly what kinds of trees lived here at that time: white cedar and white spruce were often recorded.  The Rich Conifer Swamp that occupied this place disappeared long ago, replaced by occasional black willows and invasive plants of many kinds.
Finally, along the Bay front, dune grasses persist on the grounds of the Hagerty Center, a gift provided by landscapers who pay attention to natural plant communities.  Though much degraded from former times, natural communities like the Sand and Gravel Beach can still be found within the City limits.
A Field Guide to the Natural Communities of Michigan is a treasury of information for all who love Nature.  It is profusely illustrated with color photographs of 77 communities, often featuring aerial photographs and pictures of indicator plant species.  The Traverse Area District Library purchased a volume using funds dedicated to the remembrance of Bob Rudd, local teacher and naturalist.  Readers may find that they need to own a copy as they explore the glorious wilderness around us.