Jack Hobey presents Edward Beebe's Historic Leelanau Photographs


Wednesday, November 15th 4:30pm


at Leelanau Historical Society
During the Golden Age of Postcards, Edward Beebe documented the resort, lumbering and transportation history of Leelanau County.  Between 1909 and 1915,  he was the best-known photographer in northern Michigan, using a large format camera and producing glass plate negatives that developed incredible black and white photographs.
He came to North Manitou Island first to photograph its lumber industry. The rugged beauty and the character of its residents captured his imagination and brought him back frequently. Historic Leelanau Photographs of Leland, Suttons Bay and North Manitou Island from 1909 to 1915 captures nearly 300 of these rare historic photos with a narrative of these early times written by Edward Beebe, Jack Hobey expert.
Leelanau Historical Society is located at 203 E. Cedar Street, Leland, Michigan 49654.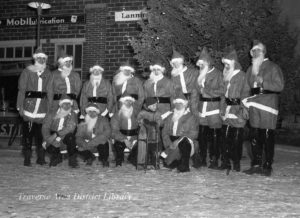 Grand Traverse Area Genealogical Society Hosts Annual "Holiday Sharing"
Thursday, November 3rd, 1:00 p.m.
Celebrate your breakthroughs in genealogy research (or recruit a few awesome minds to assist you with your brick wall) at GTAGS' annual "Holiday Sharing" Meeting! Enjoy some social time and engage with others of like-mind.
Meetings are held at the Church of Jesus Christ of Latter Day Saints  3746 Veterans Drive, Traverse City,  Michigan. Event is free of charge and the public is encouraged to attend.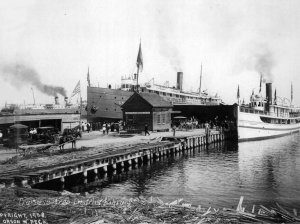 John Brian presents A History of Merchant Shipping on the Great Lakes
Sunday, November 19th, 1-3 p.m.
at Traverse Area Historical Society
Join us on Sunday, November 19th, 1-3 p.m., when John Brian will speak on the history of Merchant Shipping on the Great Lakes in the Twentieth and Twenty-first centuries. Brian is recently retired from serving over 25 years as a merchant marine deck officer on the Great Lakes.
Traverse Area Historical Soceity's Monthly History Series meetings take place in the McGuire Room at Traverse Area District Library, 610 Woodmere Ave., Traverse City. Event is free and open to the public.