An unassuming black binder was unearthed in the Local History Collection at Traverse Area District Library (TADL) this past month, which tells the forgotten story of the disastrous fire the Wilson Furniture Company survived in 1955. The fire started on the ground floor shortly after closing time, and first blew out the great display windows facing Union Street before quickly spreading through the four-story building. It was considered a serious disaster, resulting in over $200,000 worth of damage, and forcing the Company to close that location for a full two years.
When the store reopened in July 1957, it was to many accolades published in the Traverse City Record-Eagle by fellow Union Street businesses, like the Hubbell's Service Station ad pictured here: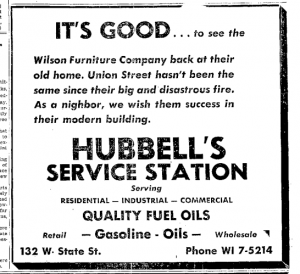 The binder of material actually came not from the archives of Wilson Furniture Company, as one might expect, but from the papers of their insurance agent, Jack Coddington Fitzmaurice. Jack was the owner of Fitzmaurice Insurance Agency, which later became Fitzmaurice Garwin Insurance when Jack took on partner Gary Garwin.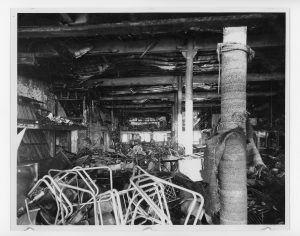 It's an interesting look into how insurance claims were handled in 1955. Although brief, the correspondence included is explicit about F.D. Leonard's, then President of the Wilson Furniture Company, satisfaction with Jack and his work. Jack coordinated the efforts of the Michigan Millers Mutual Insurance Company (which he was an agent of) and the Employers Mutual Companies to ensure that Wilson's not only received the funds needed to rebuild, but to ensure that the staff was retained and compensated.
Three aged and cancelled checks are included with the collection, all from the Michigan Millers Mutual Insurance Company, totaling $76,201.27 paid out in workers' lost wages. Does that name sound familiar? It should! You will recall in February 2017, the Grand Traverse Journal revealed that Millers Mutual is the long-time home of Queen City No. 2, the second steam-powered fire engine operated in Traverse City.
When we published that story, local historians were at a loss as to how Millers Mutual came to own the engine. Discovered amongst Jack's papers was an article clipped from a 1965 Record-Eagle, revealing the provenance as the steamer was sold from one private owner to the next, ultimately ending up in the Millers Mutual collection. It is more than satisfying to find these disparate pieces of history and find a cohesive narrative within them.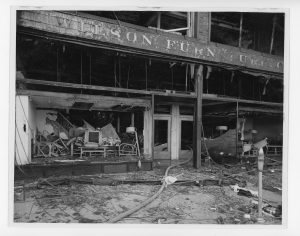 Look at these rediscovered photographs, and imagine the front of Wilson Antiques as it looks today. I suppose we need to thank Jack for that astounding transformation!
TADL's Local History Collection is made up of stories like Wilson Furniture's, Jack's, and thousands of others. What will you find?
Amy Barritt is co-editor of Grand Traverse Journal.