By Stewart A. McFerran, Benzie resident and regular contributor to Grand Traverse Journal
City of Manistee resident Frederic Ramsdell (son of Thomas Jefferson Ramsdell of Ramsdell Theatre fame) and others founded the Onekama Sailing Club in 1896. It had a club house, served meals and had sleepovers. The Club's small sailboats became known as the Mosquito Fleet.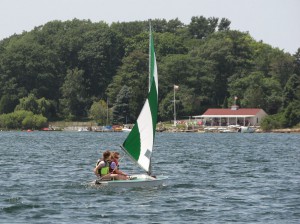 The Onekama Sailing Club, now the Portage Lake Yacht Club,  was one of the first sailing clubs in Michigan. The members hand built wooden sailboats that were rigged for racing. "Sundays and holidays were racing days. Races were started in the forenoon. The course was marked by flagged buoys and competition was keen."*
When the Mayor of Chicago, William Hale Thompson (who served in that capacity in 1915 to 1923 and again in 1927 to 1931), arrived at Portage Lake, the Onekama Sailing Club was uniquely positioned to receive him. "Mayor Thompson of Chicago always received a three-shot cannon salute. His yacht carried a large assortment of grog, and he was a most liberal dispenser."* Considering he was running Chicago at the height of Prohibition (1920-1933), perhaps we should not be surprised.
Traditionally, sailing cups are named after the person who commissioned the cup's creation, or at least donated the funds to have one made. Gustav Pabst (son of Friedrich Pabst, the man who made Pabst Blue Ribbon beer famous) crossed Lake Michigan from Milwaukee to attend races of the Portage Lake  "Mosquito Fleet". As a supporter of small boat races, he had a large silver cup made. The Pabst Cup was first awarded to the fastest Onekama sailor in 1907. The Pabst Cup Race is still held on Portage Lake each summer, making it one of Michigan's oldest sailing competitions.
High school senior Bob Beall won the Pabst cup in July 2014 by one-half second! Bob's grandmother, Char Jesson, has a sunfish he uses for the races. Sailing just behind him  were juniors Sarah and Katie.  Bob also has stiff completion from former winners of the Cup who enter the race every year. All previous winners are listed on the Cup, back to the first winner in 1907.
Veteran sailors Bill Vaughan, Dick Forwood and Biff Wiper have competed in the Pabst Cup for decades. Bill Vaughans' first Pabst Cup win came in 1964. Most recently he won the Cup in 2012.  Past winner Vaughan has enjoyed an advantage: his wife, Babs, knows how to operate the Club Cannon. She once blew a hole in the sail of a competitor. She claims it was a mistake.
Sailing for recreation remains a popular activity in Michigan. Competitions are often celebrated with trophies. There are very few sailing trophies in Michigan that are older than the Pabst Cup. A contemporary to the Pabst Cup is held by the Bayview Yacht Club, Detroit, Michigan. John C. Burke, Commodore of the Bayview Yacht Club, traces their cup's history back only to 1936, although the cup is likely older than that: "The J.L. Hudson Trophy is a perpetual trophy that was deeded to Bayview Yacht Club in 1936 by James B. Webber, who was at the time, the Vice President of the J.L. Hudson Company". *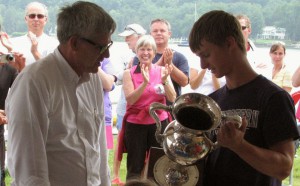 The competition during the Pabst Cup Race on Portage Lake is still keen after more than 100 years. Bob Beall will need to practice his sailing skills and tune his rig if he hopes to take the Pabst Cup home once again this summer. The race will be held August 1st and 2nd.   There will be three races on Saturday and two on Sunday; the winner will be the sailor that has the best cumulative score. Good luck, sailors!
*Quoted from Wellspring, a collection of short histories on social customs and life in Manistee County, written by students of Onekama Schools, published in 1982. Copies are available for purchase from Manistee County Historical Society.
S.A. McFerran serves on the Portage Lake Yacht Club committee boat and sometimes rescues sailors in need of help.