Traditions are comforting reminders that we have a shared past with those around us. Perhaps the favored traditions during the holiday season revolve around food: cooking the recipes of our grandmothers, gathering to eat at the tables of our forefathers.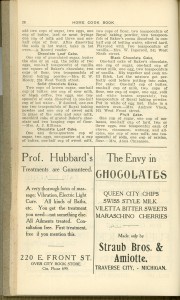 Your editors located this serendipitous find in the Nelson Room collections at Traverse Area District Library, and thought you might enjoy perusing the recipes and advertisements within: The Home Cook Book, a collection of recipes, mostly baked goods, collected from women all around Traverse City at the turn of the last century.
From the introduction:
The compiler of this book presents it with the confidence that brings to the housewives of Traverse City the most modern and strictly up-to-date recipes obtainable.

Reclaim fruitcake from stories of holiday terror by making a fresh loaf yourself, using one of the recipes found on page 29.

The recipes contained herein were contributed by the local housekeepers and have been tried and tested. To those who so kindly loaned their assistance in this way, the complier is deeply grateful and trusts that the book may in some measure compensate for the time and effort expended.
The Home Cook Book was compiled by Lewis W. Smith, Circulator for the Evening Record, "with recipes carefully arranged and classified by" Mrs. Lewis W. Smith and others. Although the cook book is undated, the Evening Record circulated between 1901 to 1910, so it was likely printed during that decade.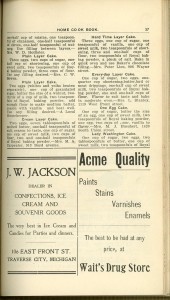 With sixty pages of recipes, all "the most modern and strictly up-to-date" from over 100 years ago, there's bound to be a new treat for you and your family to try. The best way to keep alive traditions, and therefore history, is to use and pass them along to the next generation.
If you feel inspired, you can click on a page to enlarge it, read and test a recipe out, and send in your results to the Grand Traverse Journal (gtjeditor@tadl.org)! We will be pleased to publish your photographs and descriptions in our January issue. Bake on!