Recently acquired by the Local History Collection at the Traverse Area District Library was a very small collection of materials created by Ilse Adler, who was the Director of The Traverse City Friendship Center. The Center's goal was to provide a social hub for released Traverse City State Hospital patients, and "other socio-emotionally handicapped persons."
According to the Traverse City city directories, the Center was housed at 106 1/2 E. Front Street, from 1975-1978. The Center's story, as you will read, tells us the opening of this ambitious undertaking was September 17, 1973. As far as could be determined, the Center likely operated from 1973 to 1978, but none of the materials in the collection indicate why the Center folded. Perhaps its services were duplicated elsewhere in the community and public health sector? If there is anyone in our readership with insight into the final days of the Center, we would love to hear from you.
The Center's story is told briefly in a special issue of "The Observer," the periodical of the Traverse City State Hospital in the 1970s. Enjoy this brief history of a well-meaning group of community members, who acted on the belief that Traverse City would be stronger for including all its residents.
"The Traverse City Friendship Center Story
This is the story of a dream, built on a community need, which became a reality with the opening of the doors to the Traverse City Friendship Center on September 17, 1973.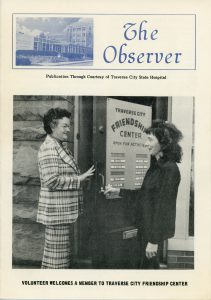 Community concern for a drop-in center for social activities for released state hospital patients now living in the community, or for other socio-emotionally handicapped persons, had been discussed openly for some years but awaited someone to provide the knowledge and means of tapping resources and rallying community support. Mrs. Ilse Adler, Director of the Traverse City Friendship Center, with the support of Traverse City State Hospital administration was able to sell the idea to the community leaders and make necessary community contacts and work with state agencies to create and finance a drop-in center.
Because of the enthusiasm of everyone asked to participate in this endeavor, not one person said "no" to request for their help resulting in the formation of a steering Committee. This committee is composed of a group of concerned citizens and representatives of various social organizations, including the Traverse City State Hospital. This committee started to meet monthly to promote the center. These persons formed a sponsoring organization which was incorporated as the Traverse City Friendship Center under the laws of Michigan as a non-profit organization on July 17, 1973. The diverse professional backgrounds of steering committee members has made some sources of monies, professional services and counsel readily accessible to the center.
A local retired businessman donated the use of the second floor of a building located on Front Street, for the center. This has been a dance studio with a large ballroom, two smaller rooms with office space in the front, and was made available, rent free, with heat and water included.
Many community members, individuals and groups, contributed: a ping pong table, shuffleboard table, books, paint, office supplies, carpeting and the labor to lay it, etc. The moving of equipment and furniture was donated by volunteers and a local moving firm.
Furniture was moved in by volunteers, husbands and children of steering committee members and friends. A cleaning bee by members of the committee and their families readied the place and we opened on September 17, 1973. Since then many items and services have been donated by the attending members ranging from a small bookcase, games and music to "goodies" to be shared, as well as skills shared and rides by some who drive.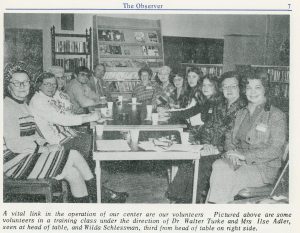 Currently the center is open Sunday through Wednesday from 1-4 p.m. and Tuesday and Thursday evenings from 7-9 p.m. Activities range from informal chatting over coffee, discussing problems with staff, participation in games and group activities, dancing, music, arts and crafts and educational programs geared toward their individual needs and interest. Members have the opportunity to explore new interests, develop their creativity through the use of arts and crafts taught by trained staff or volunteers. If members have specific skills they are encouraged to share them with others. The use of leisure time is stressed and members are shown means of applying new skills that will enable them to participate in meaningful experiences in their daily lives. Some activities pursued were planning Christmas, Valentine Day parties and a picnic, learning to mend clothes, making a wall mural, ceramics, stone polishing, woodworking and decoupage plaques. Educational programs consisting of films on mental health attitudes and a training program in office management, attended by 5 members, were offered during the year. Future programs, geared to interests of members, may include a daily living course, hair care, basic sewing and budgeting money, utilizing professional people in community as instructors.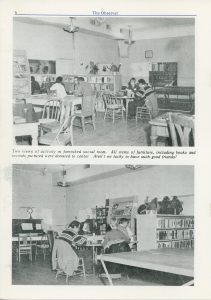 One of the community responses in support of the center is the time contributed by the volunteers. Originally our volunteers were from Traverse City State Hospital volunteer program, but gradually through media of TC and newspapers, and word of mouth, they came directly from the community. Training sessions led by members of hospital staff are provided every new volunteer. Follow-up sessions are held every first and third Monday morning, a time for sharing learning experiences with state hospital staff. Volunteers are encouraged to participate in activities and share their skills, and most important to give of themselves. During the time they are working at the center they may listen to clients discuss problems, participate in games or group activities, teach a specific skill or help with housekeeping chores.
Periodic meeting with the total membership, clients, volunteers and staff, promote participation in planning and decision making about the functioning and needs of the center.
In the year the Center has been open 202 individuals have participated in the program, with an average of 7-25 in attendance at a session. A continuous turnover in membership is noticeable, even though a small number, indicative that the needs of some have been met buy the center and they are able to cope with-out our support.
To date ten volunteers have logged a total of well over 1500 hours of service. More volunteers are joining the program and expressing the satisfaction gained by sharing time and self with others."