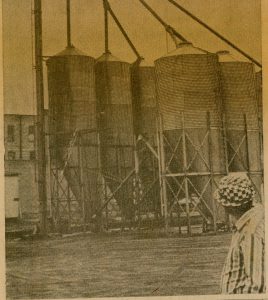 This image, published by the Traverse City Record-Eagle in December 1971 and taken by photographer John Hawkins, shows a pretty bizarre sight: Feed silos on Front Street? Do you remember where they were? Bonus points if you remember the name of the store or company they belonged to, or what was in them!
Congratulations to reader Larry, who got in the first correct answer!: "'Ralston Purina Company', 416 W. Front street, immediately east of today's 'Folgarelli's'." Good memory, Larry!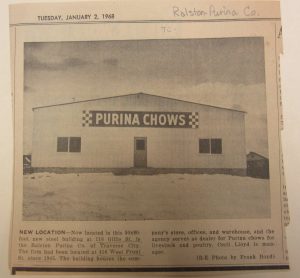 Here's a great story about Ralston's from reader Gary: "The ones I remember weren't exactly on Front St., but rather at 116 Gillis St. behind where the Northern Angler is now. I bought my feed there in the mid 1970s. There was a Purina dealer there named J. S. McDonald. I bought a feed mixture from him that included waste from pie maker, Chef Pierre. What a glorious smell it gave my barn. How much nicer it was to go into the barn and smell Dutch Apple Pie instead of calf dung."
We'd have to agree, Gary! Thanks to all our readers for reading and contributing. Each memory preserved in the Journal is another memory not likely to be forgotten!