By Julie Schopieray
Have you ever noticed the "twin" brick residences on the corner of Division and W. 7th St. and wondered about their history?   It's obvious that they are constructed of Markham bricks, the same material as the Northern Michigan Asylum (later known as the Traverse City State Hospital). With their proximity to that building, it makes sense that there might be a connection.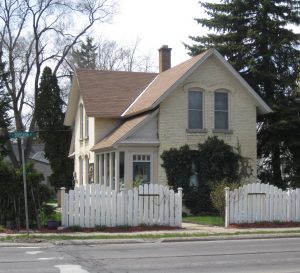 One story told about the origin of these houses goes something like this:  During the earliest years of construction, there was a tramway built to haul the millions of bricks from the Markham brick yard north of Greilickville to the Asylum construction site. The tale continued that the tramway ran down Division, then made a sharp turn to the right down 7th Street, finally reaching the Asylum.  At the point the tram veered, it was said, bricks often fell off the flat cars on the curve, but, since they were not to be used at the Asylum, simply remained there. The "Markham brothers" later built their twin houses on the site using those dumped bricks.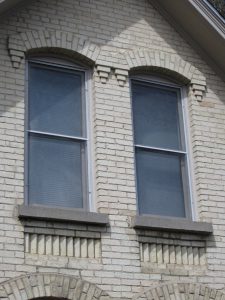 After hearing this tale, some fact-checking was needed.  City directories, census records and newspaper articles were searched, and it was confirmed that there were no Markham "brothers" in Traverse City. James Markham, the owner of the brick-making business, lived near the brickyard west of town. Though very little is written about the tramway, it highly unlikely that it traveled down Division St. as that route would have been out of the way.  Besides, the old Boardman millpond still covered the land where Division St. would later be, that pond existing as late as 1883.  No documentation has been found that describes the actual route of the mule-powered track, but a route following the flat land along the Bay, then turning south down Elmwood St. to the construction site is more direct, and seems more likely than the supposed Division Street pathway.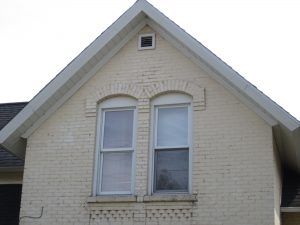 The 7th Street houses do have a connection to the Asylum. They were constructed by two men who were master brick masons employed at the Asylum as early as 1884, John Bilsky and John Sivek, both Polish/German immigrants. The common denominator in this story seems to be a man named Christian H. Petersen. Petersen was a master brick mason who, in 1880 was living in Milwaukee, Wisconsin. When the Northern Michigan Asylum was being planned, a call went out in the region for skilled masons and in 1884, he moved his family to Traverse City and went to work.
The 1884 village directory shows C.H. Petersen head of a boarding house for masons and carpenters.  Among the men listed in this residence is mason John Bilsky, who also had resided in Milwaukee.  It can be assumed that John Sivek came from there as well (the pages with the names starting with S are not yet transcribed). His obituary states that he too, lived in Milwaukee prior to coming to Traverse City, where he was employed at the Asylum. These three men likely knew each other in Milwaukee and all took the opportunity for long-term employment.
Bilsky and Sivek must have been good friends. Each had immigrated in the early 1880s, and their common heritage, language and skills as masons tied them together. They were in the local mason's union as early as 1900, when, that year, they refused to walk in the muddy street during a Labor Day parade and were fined by the labor union for not participating. Their twin houses were constructed some time between 1889 and1894, the reasoning being that Christian Petersen's 1889 Elmwood Avenue residence (309 S. Elmwood) was said to be the first brick home in the city: the two homes must have been built after that. The 1894 City Directory shows Bilsky & Sivek at 703 and 704 Seventh St., with subsequent sources such as the 1900–1930 census records and directories showing these men living at those locations. Both had sons who  took possession of their respective family homes after their fathers passed away.  John Sivek died in 1932, his son Thomas, also a brick mason, remaining at 703 W. 7th until his death in 1966.  John Bilsky's son John Jr., another second generation brick mason, lived in his house at 704 W. 7th until he died in 1956.
The real story of the twin houses isn't as entertaining as the "Markham brothers" tale but these lovely brick homes still standing after 125 years is testament to the brick-laying skills of these two men.
Julie Schopieray is a regular contributor to Grand Traverse Journal. She is currently working on a biography and architectural history of Jens C. Petersen, once a Traverse City-based architect, who made his mark on many cities in Northern Michigan and California.