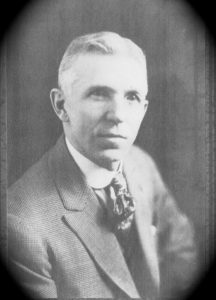 Communities often forget energetic, bold, and vibrantly creative people in their time, directing their attention to new figures that seem to shine as bright as those who came before.  So it has been with the Traverse City's Jens Petersen, an architect whose designs, innovative ideas, and general approach to architecture live on in the buildings he helped to create.
Historian and writer Julie Schopieray has uncovered the achievements of Petersen in her most recent book, Jens C. Petersen: From bricklayer to architect: the life and works of a visionary Michigan architect.  Meticulously researched and documented, the work is much more than a biography: it is a treasure trove of diary entries, newspaper articles and advertisements, advertising circulars, and treasured photographs of Petersen's family, the man himself, and the vestiges of his architectural work that remain.  It is a gorgeous work of scholarship.
Son of a stone mason and trained in that trade, Jens Petersen was born in 1873.  The family moved to the Traverse area when the boy was eleven years old, his father having been employed in the construction of the Northern Michigan Asylum.  As a young man, Jens worked on other cottages of the Asylum as well as other well-known buildings around town.  However, his ambitions exceeded that of being a first-rate bricklayer.  He wanted to become an architect.
Through correspondence school courses taken in Traverse City, night school classes taken in Chicago, and apprentice work received in a well-known Chicago firm, he passed the Illinois examination for a license in architecture  in 1903.  He was one of the first licensed architects to practice in Northern Michigan.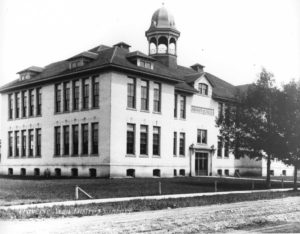 The buildings Petersen was responsible for are well-known to those interested in local history: the Union Street school, the Empire school, the old stone school in Sutton's Bay, the C.S.P.S. Hall on Front Street in Traverse City, the Bellaire Courthouse, and many residences throughout the area.  There is much evidence that Jens Petersen designed Holy Rosary Church near Cedar, Michigan.  While some buildings have been demolished, many still stand.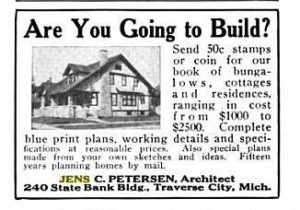 Petersen was known for two innovations, one having to do with his use of concrete in construction, both for interior and exterior design, and the other with marketing architectural designs to the general public.  He frequently published articles in a journal aimed at builders and architects called Concrete, ever advocating for the application of that substance in all kinds of construction.  In the Little Tavern, a restaurant in downtown Traverse City, he even had counters made of concrete, as well as spreading a reddish layer of it on the floor (something Julie found in a chipped-away spot at the entry to the present business at that location!)
Petersen's mail-order business for architectural residence designs was very successful.  Such plans could always be obtained from builders and lumber suppliers, but few firms would answer correspondence regarding construction problems and considerations in the manner Jens Petersen did.   In addition to many local sales, it is said that Petersen-designed houses stand in other states and even in South America and Europe.
Jens was an esteemed member of the Traverse City community, his name appearing in newspaper articles that told about his exploits in bowling, card playing, singing, roller skating, and more.  He was such an exciting person to be around, it was a surprise when he announced he was moving to Sacramento, California.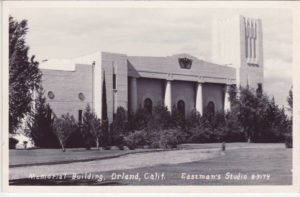 From 1919 to his death in 1939, Petersen designed many buildings in California, some of which remain at this date.  Julie Schopieray offers thirty-three pages of his notable buildings, many entries with pictures, from both his Michigan and his California years.   The California buildings frequently reflect Art Deco and Modern designs, consistent with architectural styles during the 20's and 30's.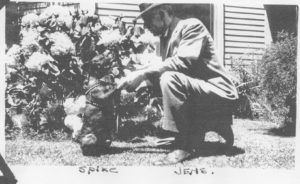 Petersen's life was not without controversy.  In California, because he was apparently not familiar with California building codes emphasizing earthquake protection, he temporarily lost his license to practice architecture in that state.  Responding to demands to improve his qualifications, he regained licensure within a short period of time, and continued to design buildings until the end of his life.
Thank you to Julie Schopieray who has restored the life and work of a great architect to us all.  Jens Petersen lives again!
Jens Petersen: A Biography can be obtained from Horizon Books, Amazon, or directly from the author.
Stay in touch with author Julie Schopieray and Jens on their Facebook page.