by Julie Schopieray, local historian and writer
Nestled in the pines on the Old Mission peninsula overlooking Bowers Harbor is a gem of 1920's architecture that has gone unrecognized for its unique style and quality design.  Now called the Mission Table (formerly the Bowers Harbor Inn), the original farm residence was designed by a dynamic architectural firm from St. Paul, Minnesota in 1929.  The design team of Bentley-Worthen was made up of two talented architects. Percy Dwight Bentley (1885-1968) trained at the Armor Institute in Chicago at the turn of the twentieth century.  His early work reflected the Prairie School style of Frank Lloyd Wright, though Bentley most likely never met the man.  He spent several years in LaCrosse, Wisconsin, designing many houses in the Prairie School style, but worked with period revival idioms as well.  Even without formal architectural training, Kenneth Worthen was already well known in St. Paul, having designed over one hundred buildings there by 1929 when he and Percy Bentley designed the Bowers Harbor home.  Starting his career in architecture around 1921, he had great success beginning at a very young age.  A compendium of St. Paul architecture, St. Paul's Architecture: A History, notes, "Still barely twenty-one years old, he began to create some of the city's most distinctive period-revival homes. He was so successful that within two years he was supported by a corps of some of the city's finest draftsmen… Worthen became both specialist in and master of period-revival design for the midsize house… a position he would occupy for the duration of his nine-year St. Paul career." (1)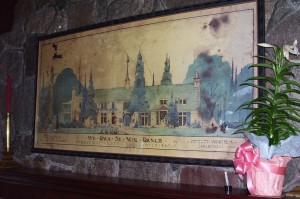 The Bowers Harbor project was larger than most of Mr. Worthen's homes. It was designed in what one architectural historian described as a stylized period house, typical of the design team's work in the late 1920s. Paul Larson, co-author of St. Paul's Architecture, described the house's design in detail.  "The front elevation of the house looks all Bentley — clean lines, balanced fenestration, sharp color demarcations. But the details … look all Worthen — picturesque mix of materials, loads of historicisms. So it must have been a joint design effort."   The home has many unique features and wonderful details in tile work inside and out. One feature is an elevator which was probably the first one installed in a residence in the entire region.  A Lion-like gargoyle at the peak of a stained-glass widow was a signature piece of Kenneth Worthen's work– a detail he had used in other homes. Several stained glass windows add more creative flair to the home.  There are two large fireplaces, one on each end of the structure and three smaller ones in the upper bedrooms, each with unusual tile or stonework. The chimney of one fireplace is built of stone and irregularly placed bricks, typical in several of Kenneth Worthen's St. Paul structures.   A stucco type wall, on one end of the home encloses a small courtyard, and is imbedded with colorful tiles, seashells, and stones collected by the owners. A large, graceful, curved iron hook once held a grand lantern near the front door. Cost to build the house was approximately $175,000, a sum well exceeding two million dollars in today's money.
The partnership of Bentley-Worthen was brief, lasting about one year, with both men going on to do other projects.  The Bowers Harbor home may have been the last one Kenneth Worthen designed in the East before he relocated his family to California in the latter part of 1930, where he continued his career as a successful architect until his death in 1947.
The Bowers Harbor home was built for Kenneth Worthen's aunt, Jennie E. (Worthen) Stickney and her husband Charles F. Stickney.  In 1909, Jennie purchased the Chester and Anna Hartson farm which was established in the 1860s.  Wintering in St. Paul with Jennie's sister Clara Mann, in Chicago with Charles' sisters (or in warmer climate), the couple arrived in the spring, staying well into the fall. When their house was damaged by a fire in 1927, Jennie hired her nephew Kenneth to build a much larger home around the shell of the old farm house.  Here they entertained family, friends, and fellow businessmen.  Charles started in the shoe and boot manufacturing business as his father and grandfather had. He used his business skills to promote local farming, the business of harvesting, and food processing.  Partnering with J.C. Howe, he established the Howe & Stickney canning company in 1910.  The Bowers Harbor home was a working farm with the Stickneys hiring local men to run the farm and ladies to help in the house.  Jennie enjoyed creating jams, jellies, brandies and pies from the fruits harvested on their farm and made it a point to serve them whenever they entertained.
As they aged and their health began to decline, the Stickneys hired a personal nurse to care for them. Jennie suffered from diabetes, heart disease and–in her last years–possible early stages of dementia. Their nurse and her children lived with them in Bowers Harbor in the summers and  accompanied them wherever they spent the winter.  Mrs. Stickney died in Grand Rapids, Michigan at the Pantlind Hotel in March 1947, where they had a suite for the winter.  Mr. Stickney, though confined to a wheelchair, continued to enjoy their Bowers Harbor home for two more years until his death at Munson Hospital in Traverse City, in August 1949.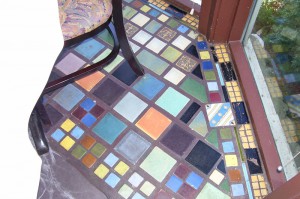 Numerous newspaper articles beginning in the 1970s report that the Stickney summer house is "haunted," claiming that Mr. Stickney died first and that Mrs. Stickney took her own life in the house. These claims concerning the Stickneys' deaths are unsupported by historical research. Another story has it that Mr. Stickney had an affair and donated all of his wealth to a caregiver, causing a jealous Mrs. Stickney to hang herself in an elevator shaft in the house. Whether or not Mr. Stickney had an affair, Mrs. Stickney did not hang herself in an elevator shaft in the house!
The legends associated with the house vary, but are all unsupported by evidence. The bare truth holds less intrigue than tales of vast lumber wealth, infidelity, vanity and suicide that have spread locally over recent years. The real story is about two elderly people who needed help from their widowed nurse, a person to whom Mr. Stickney did leave his worldly possessions, but only out of respect and gratitude. With no children of his own, Charles felt his nurse was a perfect recipient of what was left of his estate. She had two children to raise and the Stickneys had come to care about the entire family. Others connected to the Stickneys and left out of the will may have felt entitled to some of the estate, that bitterness leading to jealous rumors about an alleged indiscretion between Charles and his caregiver. However the false stories started, they are nothing more than rumors and unsupported gossip.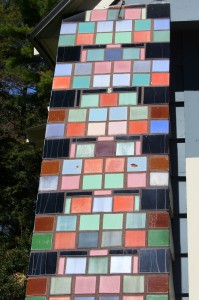 It is widely reported by former owners, employees and visitors, that there is something unusual about the house. Some claim to have experienced phenomena pointing to Mrs. Stickney's ghostly presence, often referring to her as "Genevieve."  Birth, marriage, will and passport documentation proves that her name was never Genevieve, but Jennie. The only document with the name Genevieve is her death certificate, signed by a physician who did not personally know her.  He could have assumed Jennie was short for Genevieve, or, in her state of dementia, she might have started calling herself by that name.  For 80 years she went by the name of Jennie, her given name.
Perhaps the  "ghost" experienced by many at Bowers Harbor is not Jennie at all.  It could be Chester, Anna, Nida Hartson, who all passed away in the old farm house before the Stickneys arrived.  Or, more likely, there is no ghost at all.  If it is Jennie, however, it can only be because she lingered about her dearly loved, beautiful, unusual home–her one permanent residence, designed by her only nephew, the sole surviving child of any of her siblings.
The fabricated myths need to be dropped. Perhaps if they do, Jennie's "ghost"—the twisted memory of an honorable woman–can finally be put to rest. It is a shame that Mrs. Stickney, a woman with no one to defend her legacy, has had her life story so completely tarnished.  Throughout the last few decades, the ghost stories have been a lure to bring people into the restaurant–as a glance at the Mission Table website reveals.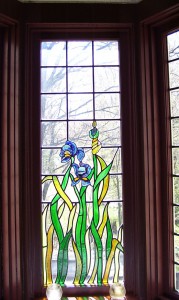 Mrs. Stickney deserves redemption.  It is the hope of the author that with the real story told, the house itself will be a new reason to draw customers. When people can finally look at the house—its true history and its glorious design–with new eyes, when they can study the quirky, exceptional details of its architecture, and when they forget the ghost legend, this splendid building will become recognized and respected for the showpiece of 1920s architecture it is.
Footnotes:
(1) Thank you to Donald Aucutt, architectural historian, who has studied the work of Percy Dwight Bentley, as well as other Midwest architects of this period.
Julie Schopieray is a local historian and writer. Julie is currently working on a project concerning Jens C. Petersen, a Traverse City architect who practiced in this city from the early 1900s to 1918.