By Deborah S. Kohn, Life-long friend of Maud's and historian of Mesick, Michigan
Transcribed and edited by Richard Fidler
Maud Miller Hoffmaster's epitaph reads, "She toiled for beauty." Her personal motto was this: "Wherever you go in this world, may that place be more beautiful because you have been there."  The two statements summarize the life of a remarkable person.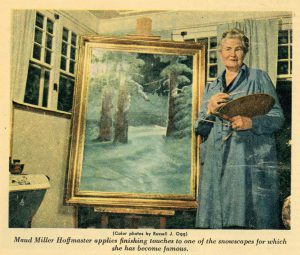 In Manistee, Michigan, on December 29th, 1883, Maud was born to William H. and Sarah Adelaide (Helfreick) Miller. The eldest of five children, she took care of her brothers and sisters, her ill grandmother, and, later, her father.  This responsibility had a profound effect on her future.  She first studied music and wanted to be a musician, but, in the end, was forced to express herself in a quieter way, sitting beside her family members, sketching or painting scenes around her home.
Maud attended school on Old Mission Peninsula and in Traverse City.  She was able to attend the Chicago Art School for six weeks after she was able to sell some of her paintings.  Aside from that meager formal training, she was self-taught.
Maud's father was a "doctor," and her mother practiced nursing.  In those days, her father may not have been a trained in medicine, but practiced as someone who could help injured or sick people.  Her mother had to maintain the home after her husband became ill and bedridden.  There were five children: Maud A., Harry E., Mabel E.(Palmer), William J. (Bill).  (I am not sure about the fifth child)  Many of Maud's early experiences influenced her later paintings, especially "The Country Doctor," a world-famous (and her best-known) painting.  She had been offered a lot of money for it–and did sell it once, but bought it back and never let it go again.
From the 1900 census records, Maud was a laborer in a basket factory before she was married.  The factory, Wells-Higman, was located near where the family lived on East Eighth Street.  It was one of the largest manufacturing establishments in the city at that time, manufacturing "Climax" grape and peach baskets, bushel baskets, berry crates, and veneer.
The brother of Mrs. Henry Ford is said to have bought her first painting for one dollar.  It was a small watercolor of a pine tree along Grand Traverse Bay.
At the age of 18, she married Havillah Clive Hoffmaster on May 25, 1904.  He was a clerk and manager-buyer for the home furnishings department of Hannah and Lay for 25 years. 
Havillah's parents were Uriah and Mary E. Hoffmaster.  Uriah served in the Grand Army of the Republic as a Union soldier in the Civil War.  He enlisted in Company 1, Eleventh Cavalry on Nov. 9, 1863 at Kalamazoo for three years at the age of 15, then mustered on Nov. 24, 1863.  Uriah then transferred to Company A, Eighth Cavalry on July 20, 1865.  On Sept. 22, 1865 he was mustered out at Nashville, Tennessee.  He returned to Traverse City.
Havillah's parents are buried in the same lot as Maud and Havillah in Oakwood Cemetery, Traverse City.  A GAR (Grand Army of the Republic) stone is on the lot, indicating a Civil War veteran soldier is buried there.
One of Havillah's first gifts to Maud was a set of oil paints, a present she put to good use.  Her ability to portray realistic landscapes, trees, snowstorms, and nature was recognized right away.  You could stand in front of any one of her paintings and feel like you were right there as part of the scene.  She was able to tell a story through her creations also.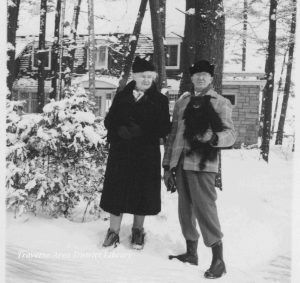 Together, they built a rustic home (cottage, as they called it), a unique building in that the outer surface was made up of stones found in the area.  She designed the house so that she could have her gallery connected to the main living area.  You can't help but remember the stones they assembled because of their large size. 
In her design for the house she had two fireplaces, also constructed from the stones, one in the living area and the other in the gallery.  For many years this was the only source of heat for the gallery.  The door to the gallery was blue with a latch that she made.  There were note cards of this door with a poem by Estelle C. Koch inside.  "The Country Doctor," which was painted in 1922, had a very special place in the gallery.  She would recite a description [of it] that Beth Parker told over the radio on her program called the Beth Parker Hour.   
Her home was in large part a gallery of her art.  Most of her paintings were done at an easel that was located so she could look out over the Grand Traverse Bay.  Many who knew her recognize this view in her paintings.  It is said she did over 400 large canvases and countless smaller ones.
There was also an outside fireplace built of stones where there were many picnics and neighborhood gatherings.  This was on the southeast side of their property.  This is where the "litterbug crew" of young boys had their pancake suppers.  It was a beautiful natural setting to be out among the tall pine trees and wildflowers.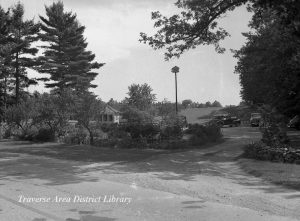 Havillah left working for Hannah and Lay after 25 years, eventually opening a golf course across the street from where they lived off Munson Avenue and near Airport Access in 1931.  He owned it until he sold the land and retired in 1952.  Many people from this area have memories of golfing at Ahgosa, the name he gave to the course.  After the land was sold, the Osteopathic Hospital was built upon the fairways, having moved out of what is now the Elks Club on Grand View Parkway.  No longer the Osteopathic Hospital, the building is now known as the Munson Community Health Center.
Georges Bal, an art critic for the New York Herald described Maud's exhibit in Paris, France, presented at the Bernheim Jeune Galleries in his article dated November 7, 1928.  Bal placed her among the greatest landscape painters of the day, emphasizing her poetic touch, calling her works "picture-poems" of Michigan.  Even the French art critics were impressed with her ability to capture the landscape with such color and perfect drawing.  So important that show was to her, she traveled to Paris for the opening.  The next year, another prominent exhibition of her paintings took place in New York City at the Helen Hackett Gallery from February 22, 1929, to March 2, 1929.
Maud was active in the American League of Professional Artists; several garden clubs including the Board of the State Federation of Garden Clubs and the Friendly Garden Club in Traverse City; the Traverse City Women's Club (past president and life member); and was Chairman of Fine Arts, a position that led to her work with Joseph Maddy at Interlochen.  She helped him raise money for his music camp, then organized the Fine Arts department at the National Music Camp. 
She was supervisor for 14 years in that department—most of the time serving in an unpaid position.  Maud helped design and build the Fine Arts building as a memorial to the Federation Golden Jubilee, and even collected some of the large stones that were used in the building.  She was not merely interested in supervising or delegating, but was involved in the actual construction.  She even carried stones to help the builders.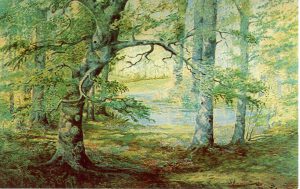 Artists from all over the world traveled to her Traverse City, Michigan home for instructions on how to paint landscapes, trees, and especially blizzard snowstorms/scenes.  People would see her paintings or hear about her, and want to meet her.  Maud also traveled all over the United States for one-man or juried shows to places like New York City, Chicago, Detroit, Dallas, Pasadena, Laguna Beach, Carmel, Pebble Beach, Sacramento, Crocker Memorial Museum, Flint, and most major art centers.  People who had seen her work in Paris, France, came.  She did all of her exhibitions by invitations only.  In her presentations across the United States she correlated her painting with music, an art very important to her.  It helped her many times to get in the "mood" to paint, especially if she had an interruption while she was painting.
Getting the paintings ready for a show was a joint effort for Maud and Havillah.  Sometimes pictures needed frames, bought or made by Havillah.  Invariably, they had to be finished so that they would accent the picture in the right way.  The size, color, and design had to be just right for each picture to make it emphasize what it was saying to viewers coming to the show.  Pictures then had to be packed and gotten ready for the show, or to be sent to the new owner.
Maud specialized in landscapes and oil, but did almost every kind of art such as block prints, pastels, and etchings.  She reproduced many of her artworks on postcards, stationery, bridge tallies, prints, and other useful articles.  Reprints of "The Country Doctor" hung in many doctors' and medical offices across the United States and may still be there.
During one of the many trips to Monterey, California, Maud got some editorial help with her "litterbug" idea by suggesting that gas stations hand out litterbags as a way to advertise.  It captured the public's imagination when the Grand Rapids Press and the Record-Eagle's Jay Smith wrote about it in Michigan.  The State and National Federations of Garden Clubs responded, and the fight against "litterbugs" was well on its way.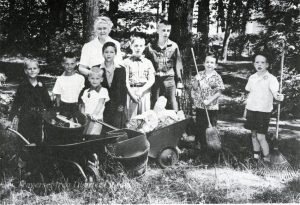 Maud even worked with a group of local neighborhood boys who became her anti-litterbug crew.  They had a picture taken which was printed on a postcard, selling them or giving them away to remind people not to litter.  These boys were Kim Tinker, David Stradinger, Randy Oliver, Tom Keith, Bruce Hume, Paul Wardwell, Earl Hamilton, and Dick Cobb.  All of these boys lived within a two-and-one-half block area near her home on Ahgosa.  They picked up along the beach and everywhere they could, then would go back to the Hoffmaster home where she would fix pancakes for supper.  Some of these "boys" still live in the Traverse City area.  This experience had a life-long effect on them.
On May 25, 1954, Maud and Havillah celebrated their golden wedding anniversary with an open house at their home.
Many people, local as well as from distant places, took art lessons from her.  She loved giving art lessons to youth, but people of all ages learned under her keen eye and tutelage.  She was always willing to share her talents and develop those of others.
In 1952, Maud wrote The Path of Gold, a novel dedicated to the membership of Beta Sigma Phi, of which she was a charter member.  This is the story of the struggle for decency and honesty against evil.  Jane Hamilton is the main character, a woman who just happens to be a painter.  It is a story of love, emotions, and intrigue about the Michigan area.
Nee-Na, The Wild Flowers Good Fairy is a children's book, but appealed to a wider audience than just children as many adults loved it.  The stories and illustrations teach nature lore that was very dear to Maud like respecting the birds and wildflowers of the woods and understanding their enemies.  She used the pen and brush to create the illustrations in the story.
Mrs. Godfrey Lundberg was a very good friend of Mrs. Hoffmaster.  She was an art critic for the Chicago Tribune from1917 to 1957.  Mrs. Lundberg's pen name was Eleanor Jewett.  During the 1930's Maud illustrated Eleanor's poems for the Chicago Tribune.  They then decided to put some of Eleanor's poems in a book with Maud doing the illustrations for each one of them.  The book was titled Make Believe.  The subjects of these poems range from the seasons in the Midwest to personal events in the life of a child.  Most of these poems were inspired by her own children over the years.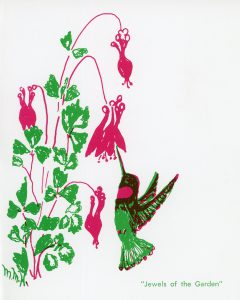 Maud was also a business woman in that she created notecards from her block prints, had postcards of many of her pictures, and sold paintings and her books as long as they were available. 
Many honors and recognitions were given her.  She is listed in Who's Who in American Art, and Who's Who in the Midwest, her name appearing in the editions encompassing her life as a painter.  The Mark Twain Society gave her an honorary membership in 1952.  The Michigan Indians adopted her and named her "Princess Ahgo-sah."  The Michigan Federation of Sheriffs Association recognized her.  In fact, a wife of a Clare County (Harrison) sheriff started a drive to get the funds to buy her pine tree painting and place it in the state capitol.  The Michigan Sheriffs had a convention here in Traverse City in 1963.  One of the tours was of the Hoffmaster Gallery.  This had been one of Maud's dreams but she did not want to just give the painting so felt she had to ask a modest sum (though its value was about ten thousand dollars).  The painting was taken on a state tour to try to raise the funds after the Michigan legislature failed to come up with the modest funds.  It remained in the Hoffmaster studio after this tour.
Maud's paintings can be found all over the United States–and even the world since she sold several when her paintings were in Paris, France.  Her shows helped sell paintings and this, in turn, would bring people from all over to her gallery and home.  Her gallery was always open to the public.  Many groups would arrange a tour of her studio whenever they met in Traverse City, still another way she met people.
She would give lectures across the United States.  With her husband, she traveled to California several times to visit family but also to do shows.  She did several paintings of the Carmel, California area, as they wintered here until they were not able to do as much traveling because of their age and health.  Her brother and sister as well as nieces and nephews lived in California, so she would visit them there.
Few of us think that no one person can accomplish the impossible things that will make the world a better place for everyone, but Maud Miller Hoffmaster was always working at doing this.  When she saw a need, she was there doing whatever was needed—whether it was constructing a building or an art program, cleaning up a community, fundraising, selecting a cherry queen, teaching about the environment and preserving the beauty of nature, entertaining hundreds of groups at her home and studio, or starting the expression "litterbug" that became a national slogan.
Her talents were not just in painting.  If not standing at her easel, she could be found writing; reading about politics, current events, world and national events; tatting, knitting, crocheting; writing letters to voice her opinion on any topic; or writing about her family history.  She never was idle in thought or deed until she fell and was hospitalized months before she passed away.
Havillah Hoffmaster was fatally hurt when a car hit him on Munson Avenue near his home.  He was chipping ice from the gutter on the road and the driver did not see him.  He died a short time later at Munson Hospital of injuries on January 8, 1964.  His funeral was held at the Reynolds Funeral Home on Sixth Street on Saturday, January 11, 1964.  Dr. Kenneth Hance of East Lansing and Dr. Howard Towne officiated.  Burial was in the family lot at Oakwood Cemetery in Traverse City.
A committee of local friends was formed to try to plan a lasting gallery of her home and paintings as a landmark to Traverse City.  Dr. Glenn Loomis, Lt. Governor William Milliken, Representative Arnell Engstrom, along with some of her extended family members hoped to accomplish this.  After her death, however, the fundraising effort failed, so her estate eventually went to a nephew, Julian Hoffmaster, her brother William, and her sister Mabel.
Maud passed away October 2, 1969, at the Grand Traverse Medical Care Facility.  She had fallen in her home in March and had been in failing health ever since the fall.  Her funeral was held on Sunday, October 5, 1969, at the Reynolds Funeral Home on Sixth Street with Dr. Kenneth Hance of East Lansing officiating.  Dr. Hance was a close friend of the Hoffmasters.  Marjorie Exo was the organist and Melvin Larimer was the soloist for the service.  The burial was in the family lot at Oakwood Cemetery in Traverse City.
You can still find a part of her here in Traverse City as many of her paintings hang in homes and businesses.  Anyone who knew her has memories of her and her tireless efforts to improve and maintain the natural beauty of the Grand Traverse area.
Sources
BOOKS
Who's Who of American Women, third edition (1964-65); Chicago, IL, A. N. Marquis Publications Co; p. 476
Artists in Michigan, 1900-1976, A Biographical Dictionary, Detroit, MI: Wayne State University Press, 1989, p. 137
Browning, Norma Lee, Joe Maddy of Interlochen, Chicago, IL, Henry Regnery Co, 1963, p.273
Hoffmaster, Maud Miller, Nee-Nah, The Wild Flower's Good Fairy, New York, The William-Frederick Press, 1949
Hoffmaster, Maud Miller, The Path of Gold, New York: Exposition Press, 1952
Jewett, Eleanor, Make Believe "Milkweed Babies and other Poems," with illustrations by Maud Miller Hoffmaster, Traverse City, MI: Myers Printing Service, 1962
Record of Service of Michigan Volunteers in the Civil War, 1861-65; published by authority of the Senate and House of Representatives of the Michigan Legislature, p. 50
Who's Who in American Art
Who's Who in the Midwest
OTHER
Exhibition of Paintings by Maud Miller Hoffmaster, New York City, Helen Hackett Gallery, Feb. 22, 1929 to Mar. 2, 1929
Exposition Maud Miller Hoffmaster, Paysages du Michigan, Galeries Bernheim-Jeune, 83 Rue du Faubourg Saint-Honore, Paris, Du5 au16 Novembree, 1928
Funeral Program by Kenneth Hance on Oct. 5, 1969
Grand Traverse County Probate Records
Oakwood Cemetery Records
1900 Census of Grand Traverse County
1900 City Directory for Traverse City
Traverse Area District Library
NEWSPAPER ARTICLES
Traverse City Record-Eagle
July 17, 1948, p. 7
Dec. 6, 1949, p. 1
Jul. 18, 1952
Sept. 10, 1959, p. 5
July 8, 1961
June 8, 1962
Jan. 9, 1964, p. 1
Jul. 2, 1964, p. 4
Feb. 20, 1965, p. 7
May 5, 2966, p. 8
Oct. 3, 1969, p. 8
Oct. 4, 1969, p. 11
Oct. 10, 1969, p. 4
Dec. 12, 1974
April 22, 1991
Grand Traverse Herald
Feb. 25, 1897
Mar. 4, 1897, p. 6
The Flint Journal
Oct. 29, 1939
Grand Rapids Press
April 21, 1953
May 27, 1962
March 21, 1965
Oct. 6, 1969
New York Herald
Nov. 7, 1928
The Carmel, Pine Cone, CA
March 18, 1938
PAINTINGS
Names of paintings I have been able to locate
1.Country Doctor
2. Even the Mightiest of These
3. Snowy Glow
4. January Moonlight
5. The Path to the Spring
6. My Gray Friend
7. Abandoned to Vetch
8. Dawn
9. The Road Out
10. Moonlight Over Grand Traverse Bay
11. Smiling Hills
12. Overhanging Boughs
13. Solitude
14. Top 'O the Hill
15. A Messenger of Spring
16. Somebody Loved It
17. Star Thistles
18. Ancient Cypress
19. Majesty
20. The Jeweled Path
21. Winter Wind
22. Vetch and Daisies
23. Spring Is Near
24. Beside Still Waters
25. Deer Trail
26. Ladies of the Forest
27. Trilliums
28. A Fisherman's Paradise
29. The Pioneer Mailman
30. Silent Night
31. Interlochen
32. White Pine
33. Hartwick Pines
34. May Morning
35. Snow Shoe Trail
36. October When the Needles Fall
37. Flaming Sumach Warms the Day
38. The Forest Road
39. Michigan Pines
40. Blessing of the Blossoms
41. Summer in Michigan
42. Whispering Peace
43. Moon Madness
44. Fuzzel, Our White Dog
45. The River's Song of Autumn
46. Four Day Blizzard
47. Portrait of Mother
48. East Bay, 1912
49. Ahgosa Trail
50. Blocking the Road
51. Sand Dunes
52. Country Doctor's Wife
53. Carmel Valley
54. Romance Moonlight
55. Big Wave on Pacific Ocean
56. Appolo's Scarf
57. An Ocean Picture
58. Autumn
59. Rendezvous
60. Backwater
61. Michigan
62. Lingering