by Julie Schopieray
Traverse City has been home to many talented artists. Among the best known are William Holdsworth, Fred Noteware, Ezra Winter and Maude Miller Hoffmaster. In 1906 another well known artist purchased a modest house on Randolph St. and moved his family from Chicago, where he had established quite a reputation for his fine art work.  Oldrich Farsky, a Servian-born artist, received his training beginning at age fifteen, first in Prague and Bohemia, then in Belgium, Germany, Italy and Paris. Coming to America in 1888, he settled in Chicago and established a studio where, for over sixteen years he created his popular paintings.  He is best known for his landscapes, but also created portraits.  A life-sized portrait of General Sherman, completed in 1894, was for many years on display at the public library in Chicago.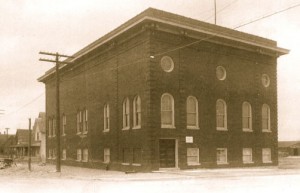 Having studied extensively in Europe, he had been exposed to the best art in the world.  He spoke four languages, but struggled with English. During his time here, he found kinship within the large Bohemian community of Traverse City where he could easily communicate with those who belonged to the  C.S.P.S club on Front St. The Czech-Slovak Protective Society, a Bohemian fraternal organization, had been established in Traverse City in the 1880s.  Because Traverse City had an active lodge, the painter felt at ease with people who shared his heritage and spoke the same language.
In 1907 he  interviewed some of the Bohemian pioneers of Traverse City and wrote an article which was printed in the 1908 Amerikan Narodni Kalendar, an annual journal published in Chicago that featured biographies and stories of Bohemian immigrants in America. The article contained  the stories and photographs of Czech settlers who had arrived in the city as early as the 1850s. Farsky also provided illustrations for the article. It was translated into English in 1977 and distributed locally.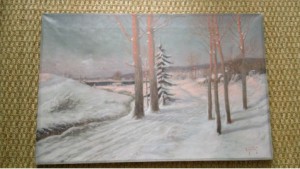 The people of Traverse City seemed fascinated by Oldrich Farsky and his art. Described as a modest and gentle man, even with his fame as an artist, he never showed any arrogance. "With all that he has accomplished, so retiring is the man that were one to meet him without knowing that is the artist, Farsky, one would never imagine that he was talking with a man who is known by his work on both sides of the water." [E R 8-30-1910] He willingly and often shared his work with the community. In 1906, several of his paintings were put on display at the Carnegie Library on Sixth street. The exhibition included eight of his latest works.  "Sheep in a Stable", "A Night on Lake Erie", "Scene After a Rain", and "Scene After a Storm" were among the pieces he shared for all to admire and many came to see them. Nineteen of his paintings were put display at the C.S.P.S. hall during the  Aug. 1908 fair and carnival where they drew hundreds who came just to see his work.
Farsky  purchased a couple of small farms in the area where he tried his had at fruit farming, but his  main residence was a house at 904 Randolph St.  In the warm months, he spent many hours walking along the bay or in the woods looking for scenes to paint. "In company with his youngest daughter, many a long tramp has he taken in the woods about the city, the two finding the greatest delight in these walks. On several occasions they have walked the entire distance to Old MIssion, and return, and many choice paintings of the peninsula scenery were the result, which found ready sale in Chicago art houses." [RE 8-30-1910]
Skilled in cleaning and retouching fine art, he was often hired to care for the collections of wealthy Chicagoans. More than once, he brought a customer's entire collection of works by "the Masters" to his home for repairs, touchups and cleaning. One collection he worked on belonged to a man named Julius Franc and was reported to be worth $75,000 (in today's money that figure would exceed one million dollars).
Farsky  traveled between Chicago and Traverse City regularly during the four years he resided here because the market for his work was greater in the city.   However, local physician Dr. Lafayette Swanton, was particularly fond of Farsky's work. He purchased several including a scene of two peasant girls carrying their harvest and waiting by the water for a boat. The detail of the painting was described in the paper. One of the girls "is looking off over the water, and in her eyes there is an undefined longing for something, it seems that the girl herself does not realize just what is in her heart. She sees the boat, but she is looking for more than that, and it gives one a feeling of sadness as he studies her face…The detail work in this painting is exceptionally fine…it has been a labor of love with the artist, and every blade of grass, every flower, each ripple of the little river, speak for this."  [ER 8-27-1910] Other Farsky paintings that Dr. Swanton purchased were one of a flock of huddled sheep in an enclosure, and the other of a young girl, the artist's daughter.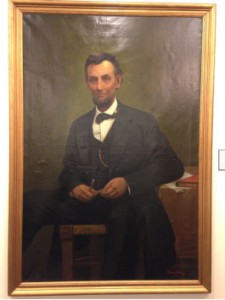 For the 1909 Lincoln centennial celebrations, Farsky created two charcoal sketches and an oil portrait of Abraham Lincoln which were hung on display at the high school.  Farsky created the charcoal drawings on site. He set up his easel around 10:30 in the morning and finished them around 5 p.m. "He did not stop for lunch, and would eat nothing until the portraits were completed. "When we work, we do not eat," he said." [TCRE 2-12-1909]
Why Oldrich Farsky chose to live in Traverse City is uncertain. The area was well known in Chicago by those who came here in the summers to seek relief from city life. Perhaps he was at a point in his life where he needed a break from the stress of the city. Here Farsky found inspiration in the beauty of the hills and water. How many paintings were inspired here will never be known, but after his time here, he did move into creating more landscape paintings.  After only four years, in August 1910, Oldrich Farsky and his wife Beatrice moved back to Chicago. They remained in the Oak Park area through the 1920s where he continued to paint and hold exhibitions.  Around 1928,  they settled in Stevensville, Berrien County, Michigan, until Beatrice died in June 1939 and Oldrich only a month later. They are buried in the Bohemian National Cemetery in Chicago.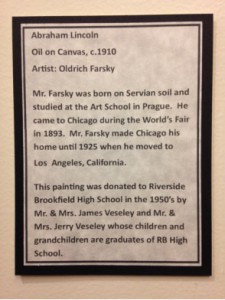 Julie Schopieray is a regular contributor to the Grand Traverse Journal.