This fun poem comes to us courtesy of the Kingsley Branch Library, where it resides in their local history and genealogy collection. We hope it gets you in the mood for May, also known as National Barbecue Month.
Rowell J. Blackhurst married into the famed Halladay family of Mayfield (yes, those Halladays), and remained a prominent fixture in the community, both in his professional career and philanthropic activities. He was also, clearly, a man of verse and a keen observer on human nature.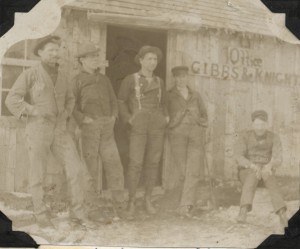 His poem is littered with clues that tell us about himself and the era he lived in. Let's look at one in particular: Why would people in "the autumn of thirty four…thank God that they hadn't starved to death?" No great famine befell our region during that time. My guess is that Blackhurst felt the nation's suffering was waning after the stock market crash of 1929 and the Depression, even in rural Mayfield.  Or did the line refer to the end of Prohibition (which took effect in 1934), that unhappy time nudging some to near "starvation"? That might better explain the later references to the volume of alcohol consumed at the picnic.
With those national events framing the celebration the poet goes on to describe, one wonders at the seemingly thanklessness of some of the attendees. But, let's be real. People have always had opinions, and that will continue, in good weather and bad.
Without further ado, our poet invites us to Mayfield for a good ol' fashioned Bar-B-Que, with all of his neighbors:
"The Bar-B-Que
In the good old days of the pioneer,
Lots of whiskey and little beer: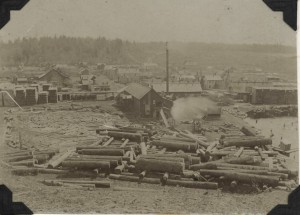 Up in the northland — Pine was King —
But the head saws' whine and the axes' ring
Vanished the ruler, made him feel
The crushing pressure of steam and steel.
But Tide nor Time for none may wait,
And thirty two years roll by my gate.
From Past to Present — a step, no more —
Then came the autumn of thirty four;
Heard the Public with bated breath
Thank God that they hadn't starved to death.
Now a Bar-B-Que was the general choice
Of a manner whereby they might rejoice.
So they bought a bull from a farmer lad,
And they dressed it out and brought it down
To the Public Grove in the old home town.
Then they hired a guy who was heard to boast
A thorough knowledge of how to roast
A bull, in a manner quite alright
To tempt a pernickety appetite.
The village portals swung open wide
To welcome the entire countryside;
With races and games and a dance and a show —
And a stand where the thirsty could quickly go
In order to aid the spirit of cheer
With an ice-cold bottle of Hi-powered beer.
And all forenoon on the autumn day
The local butcher slashed away;
Pileing [sic] up beef in a puddle of blood
To be washed down with coffee the color of mud.
But alas, and alack, it is sure hard to please
Such a throng as milled restlessly under the trees.
Some stood 'round and argued the critter was raw
While others were busily stuffing their craw;
Some stoutly maintained that the thing needed salt
But nobody noticed a shortage of malt.
Some said that to eat it they'd never be able,
That it would have been warmer left tied in the stable.
Politicians were clamoring loudly for votes
And the beer drinking public was feeling its oats.
The races, the ballgame, and even the show,
went off just as they were intended to go;
But the dance in the evening turned into a race
'Twixt the hall in the woods and Baldy's beer place.
But finally it ended as everything must.
Whether it be a success or a 'bust';
And though some maintained 'twas a howling success
Others decried it a miserable mess.
Some like it, some didn't , it's hard to say who —
For a great deal depends on — The Old Point of View.
-RJ Blackhurst, '35"