We at Grand Traverse Journal mourn the loss of our fount of knowledge and kindred spirit, Floyd Milton Webster, the historian and elder of the Village of Kingsley. At the ripe age of 95 he departed this earthly realm, on August 15, 2015, at his home on Fenton Street. We could not have wished more for him, than to pass on in the home he loved, to join his beloved wife Melvina.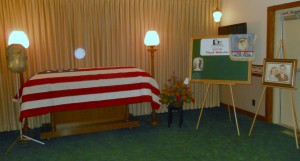 Floyd will be remembered for his charm with the ladies, his quick wit, and the merriment he always left in his wake. He was born on June 21, 1920 in Alma, the son of Walter and Martha (Vassar) Webster. Please read an earlier article published in GTJ for more on Floyd's courtship and marriage in the spring of 1943, as well as his overseas service in World War II, in his own words.
Floyd will be especially missed by longtime friends Peter and Connie Newell, regular contributors to GTJ. Thanks to the Newells, we now have Floyd's remembrances to hold for posterity, as well as the following poem, written by Connie and read aloud by Peter at Floyd's memorial service on August 19th at the Covell Funeral Home in Kingsley. Connie graciously allowed the publication of this work, for which we are indebted, as this is the fitting tribute our dear friend deserves.
The Village Elder

By Connie Newell
May, 2009

The "older" man who walks and drives
Is one who visits all
He sees on his daily travels,
And they wait for him….

With quick wit, flashing blue eyes
That twinkle before a ready joke,
He makes us laugh
Because "It makes IT better."

And our lives get
A whole lot better
Even for a moment
And sometimes, that moment is…

All that we need
To regain our inner balance
To be able to get through
Another mundane day.

This man, Floyd Webster, has lived here
For so many years that most
Of us have no idea how many.
Because, to us, he has been here forever.

It's not that we take his daily rounds,
His jokes, his sweetness,
For granted
It's just that he is Floyd,

And he'll always be here
Even if he goes to be with his wife
Who left such a long time ago
That few of us remember her.

And Someone else moves into
His perfect little white house
On Fenton Street
As clean as a whistle

With the flag blowing briskly
In the wind
And always two chairs outside
One for me and one for him.

He's not young, you know,
Only in his heart
Where it counts, and
Let's face it ladies, he's very datable.

People talk about Floyd.
They say all kinds of things
Which are always good and
The community, sometimes gets scared.

"I saw Floyd today, and I
Didn't think he looked
All that good.
Do you think he's OK?"

Everyone watches out for Floyd,
Everyone cares.
Everyone Loves him
Because he IS the town.

He knows everything there is
To know about it
And can tell you
If you can spare a day or two.

Which is why it's good that
We have a new library
So most of the stuff he's collected
Has a good home.

He deserves that
Because he's a rascal and
Rascals are hard to find
Because it takes a good man to be one.

Many eyes see him almost every day
As he buys his lottery ticket,
Though he's already worth a million
Telling a joke or just being there

Because he makes us feel
Better about ourselves,
We hope that we can
Show that his energy was well spent.

We want him to know how
Much he is loved by this Village
And we are very grateful
That he has never left

His niche completes
Our Kingsley story.
Nope, he has hung out here for too
Long to ever say good-bye.

He knows where all the bodies are buried.
Maybe he'll tell,
Wouldn't that be great! I hope he does
Before he forgets where he is

And wakes up
With his beautiful wife
And they both stroll, hand in hand
And we are all unaware.