by Peg Siciliano, TAHS Board of Directors, Archivist
The Grand Traverse Area lost a champion of local history with the passing, in California, of Robert Wilson in November 2017.  A Traverse City memorial service was held in his honor this past August.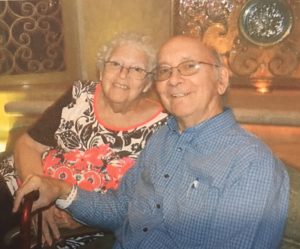 Born in Detroit in 1936, Wilson moved to Traverse City with his family in 1946. He graduated high school here, and would return to his "hometown" in retirement.  He then served for many years on the Grand Traverse Pioneer and Historical Society Board, as the Traverse Area Historical Society was then named.  Bob, and his wife Joy, both served as Presidents of the GTPHS/TAHS.  Wilson also authored the three volume Grand Traverse Legends series, the profits from which all go to the TAHS.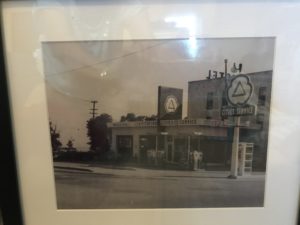 Now part of that history which he so loved, Wilson's personal story, is fascinating in itself.  His father owned the Cities Service gas station on the northeast corner of Front and Park (today the site of the Dingeman & Dancer law offices, and before that The Bean Pot Restaurant).  Once Wilson retired back to Traverse City he delighted in regaling listeners with stories of his youth.  One involved his mother's worries about Cities Service's proximity to what was then a string of not-so respectable (at least in his mother's opinion) bars.  (Today this is the location of the old Chase Bank Building, and the new building housing Sorrellina's and Slate).
Mrs. Wilson insisted that young Bob walk only on the north side of Front.  At that time the  south side of Front, just west of Park, housed the bars. Patrons of those establishments often hung out on the sidewalk. Apparently his mother didn't want Bob dealing with these sometimes-inebriated citizens, or maybe she was concerned about the temptations of alcohol.
Perhaps Bob's mother was concerned because she sensed a streak of wildness in the young boy.  Such tendencies did, indeed, appear during his teenage years. As Bob aged and began  attending Traverse City High School in the 1950s, he often tangled with school administrators and city police.  Close to heading down "the wrong road," the course of his life was changed by the wise direction of then Probate Judge Harold Hunsberger. When Wilson graduated from Traverse City High School in 1954, Hunsberger gave him a choice: Join the military or go to jail.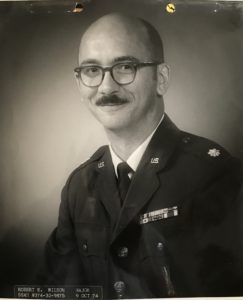 Wilson decided to join the military.  According to Joy, "He told me he chose  the Air Force because he liked  its blue uniforms."  Whatever his reason for joining, military discipline seems to have brought out the best in him.  Wilson's achievements once he joined the military, and after his service, prove that great success can come from surprising circumstances. 
In a Traverse City Record-Eagle article, his sister-in-law, Jeanne Hurst, recalls that Wilson was a man of many talents, saying "Bob had a brilliant mind.  He earned two masters degrees, excelled in engineering during his time in the Air Force, had a heart for Christian ministry, and poured himself into promoting local history wherever he lived, especially here in Traverse City." 
While in the Air Force, Wilson earned first his Bachelor's degree, and then his Masters in Aeronautical Engineering.  He retired from the Military as a Major  in 1975.  He also married while in the service, wedding Joy Skellett of Buckley, Michigan, in 1956.  Together Joy and Bob  raised three children:  Keven, Renate, and Teresa.  They were also blessed with four grandchildren and 8 great-grandchildren.  The family thrived in many different locations, including Sault St. Marie; Laramie, WY; Tullahoma, TN;  Cologne, Germany and Anaheim, CA.  Wherever they lived, the Wilsons strove to make that place a true home, delving into  each new place's local history.
Wilson credited this love of history to a Traverse City High School teacher named William Gerard.  In Wilson's own words "Gerard had the gift of teaching history in a way that made it come alive."  Gerard also saw the depth of Wilson's academic abilities, in spite of his  youthful delinquent activities. He encouraged Wilson to develop his writing and learning skills, something that served him well later in life. Ultimately, Gerard planted a seed of interest in history that grew,  and through Wilson, eventually benefitted communities literally spread across the globe.
After retiring from the military, Wilson returned to school at the Anaheim Center for Theological Studies, where he earned a Masters in Divinity.  This led him to work in a wide variety of Christian ministries, including directing a live-in drug rehabilitation Center in Albuquerque, New Mexico, serving as Director of Admissions at South California College, and ministering to men at the Rescue Mission in Santa Anna, CA. 
Then In 1993, after nearly forty years of "traveling the world,"  the Wilsons returned to Traverse City.  There, both Joy and Bob worked in Christian ministry, particularly with Meals on Wheels.  In the late 1990s Wilson served six years as an associate pastor at Resurrection Life Church in Traverse City.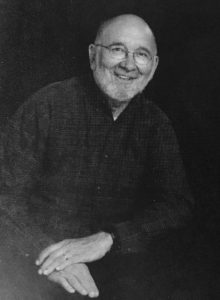 Wilson's somewhat unexpected successes in life, given his youthful peccadillos, were largely due to his great intellectual abilities.  With hard work and dedication he harnessed those abilities to gather tremendous knowledge and then used that knowledge to the betterment of many people. That Alzheimers eventually robbed Wilson of the use of that knowledge is both ironic and tragic.  But that, as it does for anyone struggling with memory loss, in no way lessens the gifts of learning and service that Wilson bestowed upon his community during his life.
Traverse Area Historical Society  Board member, Sharon Jennings, feels that: "With Bob's passing,  our area historical community lost a great friend and Traverse City lost a voice that could connect it to its past. Bob had a sign he carried with him that said, 'Local History Spoken Here.' He was never happier than when he was reminiscing with others about his early years in TC and about the changes he'd seen over time. He was a voice for Traverse City's past that cannot be replaced."