Milk snakes do not milk cows, contrary to legend.  They do hang around barns and other structures–sometimes houses.  Someone I know shares her dwelling with occasional milk snake intruders which apparently enjoy living in the crevices of the foundation.  It does little good to let her know that they are only looking for rodents and other small varmints—she does not like them.  To her credit, they have become only an occasional nuisance, and are only evicted from the premises rather than summarily decapitated, a common response of humans.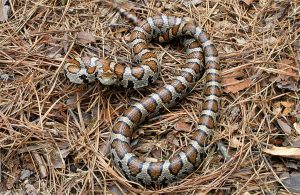 I saw one quite recently, three feet of torpid elegance stretched across a bike path near where I live.  Fearing for its life–since it nearly blocked the right-of-way of bicycles–I stamped on the ground to get its attention.  With apparent nonchalance, it moved to one side and then into the tall grasses beside the river, its tongue flicking out every few seconds as snakes do.
Indeed, why do they do that?  Reference books tell me that this is their sense of smell, but that statement is not quite accurate, since the actual organ of smell is inside their mouths.  The tongue only samples the air outside.  Since they don't bring air directly past their olfactory membranes, then they can only smell whatever comes to them on the wind, a strange mechanism at least from our point of view, since we can sniff.  What smells would they be sensitive to?  Rodents, one might guess, and other milk snakes, females especially–if a male snake is the prime actor.
Milk snakes are harmless, but that does not mean they will not attempt to discourage those who would cause it irritation.  Like many of its relatives, it will coil, hiss, and strike to incite fear in the hearts of its perceived enemies.  It should be forgiven for that behavior, not beheaded.
These creatures are most commonly seen in spring and fall.  They go after their prey after nightfall, seeking out mice with their flicking tongues, ready to wrap themselves around them in an instant, squeezing them so they cannot breathe.  That is what constrictors do.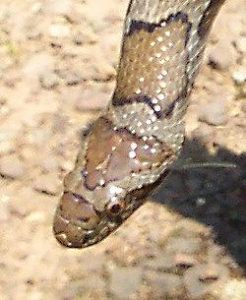 Milk snakes are given the name Lampropeltis triangulum triangulum, the "triangulum" element referring to a triangle or Y-shaped marking at the top of its head.  In larger snakes dull red bands decorate its body, but smaller ones will have brighter red stripes bordered with black, all set upon a creamy white background.
After your initial surprise at seeing one, you will have to admire this animal for its stunning appearance.  As so many snakes and reptiles are disappearing because of habitat disruption, they are to be treasured all the more.  Let us live in peace with them.
Want more on snakes? Check out these TADL books about snakes
Holman, J. Alan, Harding, James H., Hensley, Marvin M., and Dudderar, Glenn R., Michigan Snakes, Lansing: Michigan State University Press, 1993, 2006.
Holman, J. Alan, The Amphibians and Reptiles of Michigan: A Quaternary and Recent Faunal Adventure, Detroit: Wayne State University Press, 2012.
Richard Fidler is co-editor of Grand Traverse Journal.