A couple of our area historical societies are offering tours this summer, and here's the inside scoop!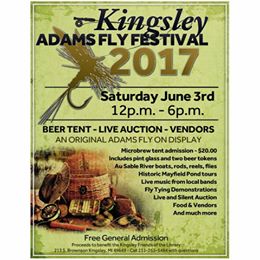 The annual Adams Fly Festival at Kingsley Branch Library promises to be a hoot, as usual! Two tours to Mayfield Pond Park are highlights of this annual event. Come learn about the history of the Adams Fly, its creator Len Halladay, and about Mayfield, a "little piece of paradise" in southern Grand Traverse County. See you out there on June 3rd!
From the Traverse Area Historical Society, they will be bringing back their now-famous Oakwood Cemetery Tours, as well as tours of Downtown Traverse City, and (with perhaps a little help from our readers), possibly a tour of the Sixth Street Historic District. Stay tuned for dates, and in the meantime, enjoy a "virtual walking tour" of Downtown Traverse City by our own Richard Fidler, courtesy of the Society.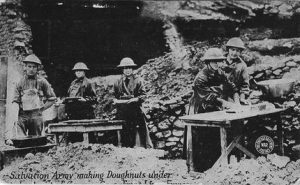 The Benzie Area Historical Museum has been marching toward the summer, with special displays going up about World War I. They have also reminded us that it is National Doughnut Day on June 2nd… what a yummy way to honor our veterans! In regards to tours,  the Museum is offering two, both in cooperation with Benzie Bus:
"Consider getting away from the beach and experience  an historical bus tour of Benzie County with knowledgeable local guides.  The tours last approximately 2 hours and are  available every Thursday and Friday from June 2 through September 1.  Plan to visit the Benzie Area Historical Museum too– either before or after your tour!
​There are two tours, each departing  from the Benzie Area Historical Museum.  One tour travels to Beulah, Legacy Art Park,  Thompsonville, Benzonia Cemetery  and the other explores the  Elberta and Frankfort areas.  Tickets are $15 per person; children eight and younger are free.  For more information about tour content, contact the BAHS museum 231 882-5538  or info@benziemuseum.org.
​For tour reservations contact Benzie Bus at 231 325-3000. "