by Stewart A. McFerran, Regular GTJ Contributor
When Nello Valentine left Chicago in his VW Van his destination was not Leelanau County. He passed through Leelanau on his tour of the Nation. After travelling the Nation's highways and scenic byways the journey was complete with a stroll on Haight Ashbury Street in the other Bay Area. He traded the van for a houseboat that was docked near the Jack London Square in Oakland, California. His son was born there before he and his wife Margie decided to move to Leelanau.
They bought a Rambler and arrived at the Candle Light Inn outside of Suttons Bay in December of 1968. "I had long hair, a mustache and no idea there would be such prejudice against hippies." Nello and Margie bought 100 acres outside of Cedar. Many of the farms of Leelanau County had soil that did not react as expected when deforested and grazed. Erosion cut into the sandy hillsides of cut rate acreage.
Nello decided to plant trees on his property. Ellsworth Esch had been planting trees in the county for many years. He worked with the soil conservation district programs that targeted timber stand improvement, soil erosion and wildlife. "Ellsworth hired Indians to plant the trees", said Nello.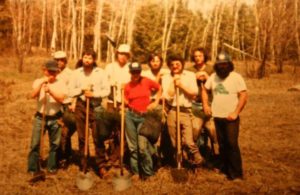 Nello hired his own crew and started planting trees in 1974. As an occasional member of the crew I recall that we mostly planted white pine, red pine and Norway spruce. At that time the DNR wildlife experts were recommending that autumn olive be planted for "food plots". Nello sometimes took his crew to remote two acre oil well sites that had been abandoned. These areas were slated to be covered with autumn olive. Autumn olive is now considered an invasive species by experts.
Nello recalls the giant hemlocks that once covered Leelanau. He rues the days those giants were cut just for bark and left to rot on the sandy soil.  Elms were dying or dead county-wide when Nello first moved to Leelanau. He said they made good fire wood. The ash trees have gone the way of the elm and are now providing firewood.
At this moment in time when so many kinds of trees are threatened by invasive species, disease, and climate change, Nello calls on his degree in comparative religion. Today a walk in the woods can be dangerous due to falling timber, says forester Kama Ross.
At the time Nello began planting there were many large farms in Leelanau. Those farmers could take advantage of the programs though the soil conservation service and work with Nello to have trees planted on their sandy hillsides. We would walk together with canvas bags on our hips and plant trees every eight or ten feet. The federal government dictated the spacing of the trees. It was always important to slot the root of the tree straight into the earth and avoid having a "J Root". We could carry fifty trees on our hips and plant thousands of trees a day.
Spring was the best time to plant and Nello's crew often planted 80,000 trees during those cool months. The Fall planting time was shorter but often the crew accomplished the rooting of 50,000 trees. The survival rate of the trees we planted was 80%. Nello has seen that reduced due to hotter weather and longer droughts. He has resorted to watering trees on his farm.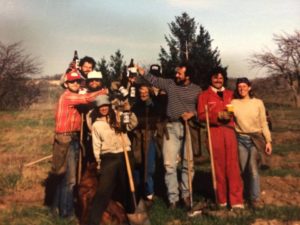 I recently met John DeKorn at the Lake Ann Brewery. John was one of Nello's best tree planters. His home brewed beer "Old Burdickville" was sometimes provided to the crew at lunch in the field. I recall that on those days the rows of trees became serpentine after lunch.
Many of the farms of Leelanau have been subdivided. The soil conservation district still offers trees. Nello and crew of hippies planted trees from 1974 to 2004.  His conservative estimate is that we planted 2 million trees in Leelanau, Benzie and Grand Traverse counties, an accomplishment that I for one am proud of.
Stewart A. McFerran is a former deck hand with Lang fisheries in Leland MI. Leader of the Antioch College Great Lakes Environmental Field Program and Innisfree Naturalist.